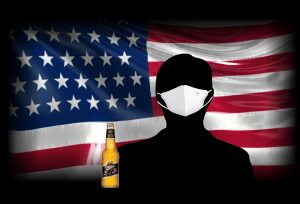 As many have publicly stated over the last few weeks the days have started to roll into one another.
When things are busy this happens to me as well and this current collection of seconds and minutes was kicked off by an alarm in the middle of the night, which lead to an hour and a half drive to discover an eighty foot Oak had snapped in half, harpooned itself into the ground and smashed a small out building.
The forest was so dense neither the moon nor my headlamp provided much assistance so I waited a few hours to assess and move forward.
It only "got busier" from there as the phone rang later that day. A friend of mine who resides in Los Angeles County was not happy as she explained she was told that she could not enter a particular grocery store without putting on a mask.
The sheep have sailed and are now assailing others.
My friend was none too pleased and although I agreed with her anger the grocery store is a PRIVATE entity and can require specific behavior if they so choose.
That is their legal right just like we have a legal right to NOT put on the mask and also to NOT shop at this store when this stupidity is all over.
Freedom is indeed a beautiful thing!
Toilet paper for all!
I continued forward and while dodging hordes of people on the street, fighting traffic, doing pushups and running my business, another telephone call came in.
It was a friend of mine who usually buzzes me once a week to give me the "what's what" in our County.
Normally he starts with pleasantries but today not so much.
"Did you hear what happened?"
"Tell me Governor."
I call him Governor.
"My barber was just robbed twice, once at gunpoint."
We live in a supposedly safe community but things have been getting worse here for a while.
My buddy keeps up with the comings and goings and lets me know.
When he does I always ask my friend the same question.
"Did you get a gun yet?"
"No."
"How about your barber? Does he have a weapon?"
"I don't think so," he answered.
"So how many times does your barber have to get a gun shoved in his face before you get one?"
The conversation didn't improve.
On this issue it never does.
A few days later, while at work, the phone rang . . . again.
Alarms, collapsing trees, masks and pistols in faces?
Did I really want to pick this call up?
I didn't.
Another buddy wanted me to know about an eighty-six year old friend of ours named Jim.
Wonderfully cantankerous and with a huge heart my friend Jim had passed away while working his land.
Something he'd loved and done for over forty years.
Jim was the kind of guy who'd tell you straight to your face he didn't like people and then sit and tell stories while burning leaves on his property and drinking beer from a frosted glass.
I will miss my friend.
For those of you who drink Miller please pour one out for a blessed soul, and what I mean is drink one for Jim.
He'd be pissed if someone actually wasted beer.
Even Corona.
They've gotten a bad enough rap as it is.
Godspeed and keep the fires burning Mr. Jim.
I'll see you on the other side.
Finally, as the days turned into nights and then back into days the weather grew warmer, the crowds busier and the streets packed, I realized I hadn't watched television in a while.
Amazingly the sky was bluer, the sun was brighter, even the bird excrement was in full force.
With this thought in mind I fought my way through after work traffic and stopped at a grocery store well after seven pm to grab a few unneeded supplies.
A four pack of toilet paper, a small bottle of hand sanitizer and one roll of paper towels.
I jumped in one of the available lines, chatted with my fellow Americans and eventually made my way to the checker.
I handed her my cash through the small cavern in between two pieces of plexiglass, smiled and said,
"Why is everyone wearing a mask?"
Jason Kraus
www.aleadernotapolitician.com
www.freeamericanetwork.com