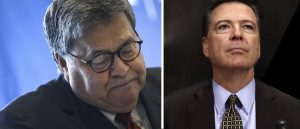 by Daveda Gruber:
The Conservative watchdog group, Judicial Watch, announced that it had obtained an FBI log about special agents arriving at former FBI Director James Comey's home in June 2017 to retrieve his memos.
Comey handed over four of them and said that two of them, to the best of his recollection, were missing.
Still, it is now allegedly been decided that Comey will not face prosecution on this matter. The Department of Justice has declined to prosecute in this case.
During congressional testimony, Comey admitted that he had hand written notes of his meetings with President Trump in the days before he was fired. He took those notes and shared them with a friend who passed them to The New York Times.
That, folks, is called leaking information.
Two of the memos were classified by the FBI as "confidential," but after the fact.
Comey became a critic of the president ever since he was fired from his position at the FBI.
Look what Comey tweeted:
Thanks to @SarahLongwell25 of The Bulwark for making the case to (and against) Republicans in a single sentence. https://t.co/fBG06OUs3E pic.twitter.com/x5oFzeotD5

— James Comey (@Comey) July 9, 2019
This country is so much better than this president. And next year we have a chance to prove it.

— James Comey (@Comey) July 15, 2019
We have long had ugly margins in this country, but we are a fundamentally decent people, with shared values. We treasure our identity as a nation of immigrants. With our voices and our 2020 votes, we must send Donald Trump and his mob back to their dark corner.

— James Comey (@Comey) July 18, 2019
Comey's feelings towards Trump are not hidden. He holds hate for the president.
And Comey is not out of hot water just yet. He is a possible target of Inspector General Michael Horowitz's separate investigation into alleged Foreign Intelligence Surveillance Act abuse.
The former FBI director also signed three out of the four FISA applications targeting former Trump campaign adviser Carter Page.
Comey's actions as an FBI Director will now probably be scrutinized in the "investigate the investigators," which is a review of the origins of the Trump-Russia investigation that is being led by Attorney General William Barr and the U.S. attorney in Connecticut, John Durham.
It has been said that the bigger you are, the harder you fall. Comey is a tall man who stands 6 feet 8 inches tall. I predict that he falls hard.