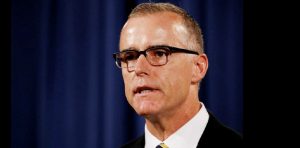 by Daveda Gruber:
The Justice department has allegedly rejected a desperate appeal from former deputy and acting director of the FBI, Andrew McCabe.
Allegedly, it has been recommended by U.S. Attorney Jessie Liu that McCabe appealed the decision of the U.S. attorney for Washington all the way up to Jeffrey Rosen who is the deputy attorney general.
Potential charges of the former top FBI official relate to DOJ inspector general findings against him regarding misleading statements concerning a Hillary Clinton-related investigation.
McCabe's legal team has said that they received an email from the Department of Justice which said, "The Department rejected your appeal of the United States Attorney's Office's decision in this matter. Any further inquiries should be directed to the United States Attorney's Office."
McCabe was recently hired by CNN as a commentator and paid for his service. He had previously spent twenty-one years working for the FBI.
McCabe became the acting FBI director in May 2017 after President Trump fired former FBI director James Comey.
Former Attorney General Jeff Sessions fired McCabe in March 2018. The IG had found McCabe had repeatedly misstated his involvement in a leak to The Wall Street Journal. This was in regard to an FBI investigation into the Clinton Foundation.
McCabe sued the FBI and the Justice Department over being fired. He argued it was part of Trump's plan to rid the bureau of leaders he perceived as disloyal to him.
McCabe argued in his complaint that FBI Director Chris Wray and Sessions, the two officials responsible for demoting and then firing him, created an excuse to force him out, which was in agreement with the president's wishes.
The reason given for McCabe's being fired was that he had misled investigators over his involvement in a news media leak.
McCabe has denied any wrongdoing and says that the real reason for his firing was "his refusal to pledge allegiance to a single man."
I've told people on Twitter, who have asked me, who I thought would be indicted. I've always answered, "Andy."
Come on folks, someone big had to go down, right? McCabe is a big fish to fry but others may get a free pass.