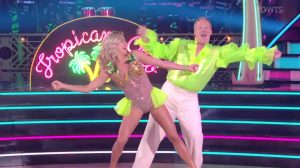 by Daveda Gruber:
Former White House Press Secretary Sean Spicer is enjoying his time on ABC's Dancing with the Stars.
Spicer, who is merrily dancing with a new partner after his original dance partner, Lindsay Arnold suffered the loss of a family member, her mother-in-law, and is taking time off to attend the funeral.
The former press secretary is left with a new partner, Jenna Johnson, who he's not used to dancing with but danced to a beautiful song made famous by Styx, "Come Sail Away" after almost a week of rehearsing with Arnold.
Johnson was teamed up with Karamo Brown and they were eliminated from the contest last week, which was week seven.
Here are Spicer and Johnson dancing last night, week eight:
After the performance last night, Spicer sent love to his partner after the dance. "My heart goes to out Lindsay, her husband Sam, and their family," Sean said after the dance, which earned him a total score of 20 out of a possible 30.
But the score didn't stay that way for long. After the judges posted their scores, the American viewers text to vote for their favorites. And Spicer has a lot of fans.
Before the show, President Trump urged his 66.5 million Twitter followers to vote for Spicer on Monday. Now, that's incentive!
Trump tweeted:
Vote for Sean Spicer on Dancing with the Stars. He is a great and very loyal guy who is working very hard! #MAGA https://t.co/JGvKANCRqZ

— Donald J. Trump (@realDonaldTrump) November 5, 2019
It appears that liberals had a meltdown. They don't think that Spicer is the best dancer but he keeps getting enough votes to keep himself out of elimination.
Trump seems to have a lot of influence, after all, he is our president.
Anyone can look at the threads of tweets that have not been pro-Spicer or pro-Trump.
Here a sample of what is typical of Democrats following this:
It's certainly a truism that you end up doing what you falsely accuse others of doing.

But somehow I never guessed THIS would be the election you would rig.

Honestly, I think you're right tho. Play this card now because you might not get another chance after #impeachmas 🍑🌲 pic.twitter.com/L3AjuIHSH8

— KevinlyUncle 🇺🇲🇨🇦🇲🇼🇸🇿 (@KevinlyFather) November 5, 2019
I watched the show last night and quite honestly, I like to watch "Dancing with the Stars" every season. This season has intrigued me more than other years because Spicer is on.
Here's an example of a pro-Spicer or pro-Trump tweet:
Everyone hates the electoral college until Sean Spicer takes the popular vote on #DWTS.

— Christianna Novakovic (@Christianna_Nov) November 5, 2019
If the American people are voting for a pro-Trump former staffer because he's got the values of the people who vote, it's a very good indication of how the majority of people in this country are leaning.
Spicer is getting the popular vote. There is no electoral college in DWTS.
Here's Spicer and the other couples finding out who's not getting eliminated and who's was going to go home last night.
See for yourself:
I have never trusted polls but DWTS is not a poll. It's reality TV and the voting is done by real people.
Snowflakes are melting and I'm cheering Spicer on and laughing as I watch him dance on my TV.
Keep it up Spicer, you're somewhat like a test run for the 2020 elections, if in fact, you win on DWTS. Good luck, We're behind you!