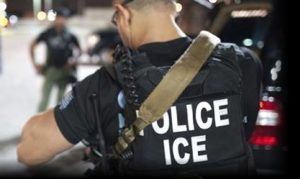 by Daveda Gruber
On Friday more operations by Immigration and Customs Enforcement were announced and good results keep coming.
The operation is targeting sanctuary cities and ICE agents took one hundred seventy-six people into custody.
Operation Rise took people located in Philadelphia, Denver, New York, Washington, Baltimore and Seattle into custody.
At a news conference in Philadelphia, acting secretary of the Department of Homeland Security, Chad Wolf said, "Operation Rise is proof-positive that we will never back down from enforcing the rule of law, with or without the cooperation of local political leaders."
A staggering number of around one hundred and forty of those detained have criminal records or pending charges.
Wolf told of an example of a 33 year old Brazilian citizen in Philadelphia whose has a rap sheet that includes aggravated assault, possession of an instrument of crime, terroristic threats, simple assault and reckless endangerment.
Philadelphia police ignored a detainee request in September that  eventually led to his release back into the community.
Wolf said, "This person is now in ICE custody, where he will remain pending removal proceedings."
There was a similar operation that ICE conducted in California last week. That operation led to more than 125 illegal immigrants with criminal backgrounds being detained.
With elections just around the corner, Wolf was adamant that elections had not prompted ICE's operations.
Wolf made a strong comment where he said, "Operation Rise, again, has nothing to do with politics, elections, Democrats, Republicans or anything of the like. We are targeting jurisdictions that have sanctuary policies."
Please understand that ICE has a very difficult job when it comes to sanctuary cities. These cities do not want illegal immigrants detained even if they have committed horrendous crimes.
Come to think about it, some cities don't even want illegal's with or without criminal records to be removed.
Why is that? Do they have more compassion for non-citizens than Americans? I can answer that. If you have plans to vote for President Trump, you don't matter to the leaders in control of sanctuary cities.
Priorities must change and that change comes with your vote for Trump and those who in leadership who are on the same page as our President.
Stay free, stay safe, vote TRUMP 2020!