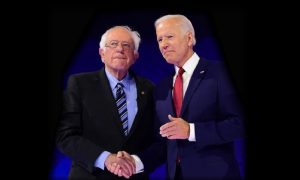 by Daveda Gruber:
The debate between former Vice President Joe Biden and Senator Bernie Sanders I-Vt., will be debating without an audience on Sunday.
The Democratic National Committee had planned the Presidential debate to take place in Phoenix, Ariz., but that has changed due to the fears that have mounted with the coronavirus.
On Thursday DNC Communications Director Xochitl Hinojosa said in a statement, "Out of an abundance of caution and in order to reduce cross-country travel, all parties have decided that the best path forward is to hold Sunday's debate at CNN's studio in Washington, D.C., with no live audience."
Also announced was that Jorge Ramos, who was going to be a moderator, will step back from this debate. Ramos had contact with someone who had been in contact with someone else who tested positive for the virus.
Hinojosa also said, "In addition, the DNC, CNN and Univision recently learned that Univision anchor and moderator Jorge Ramos was in proximity with someone who was in direct contact with a person that tested positive for coronavirus. Both Mr. Ramos and the person he was in contact with are in good health and symptom-free. Despite being cleared by medical professionals and out of an abundance of caution, Jorge has decided to step aside from participating in the upcoming March 15 democratic debate. Univision's News Anchor Ilia Calderón will moderate the debate in his place."
She continued, "Our number one priority has and will continue to be the safety of our staff, campaigns and all those involved in the debate."
The World Health Organization designated the coronavirus, or COVID-19, an international pandemic and that appeared to be the reason to move the debate.
It has been reported that as of Thursday morning, there were more than 1,300 cases of coronavirus in the United States. Forty-four states, including Washington, D.C. have seen cases of the coronavirus. Thirty-six coronavirus deaths have been reported in the United States.
Most people who get the coronavirus have mild cases with symptoms being fever and cough and usually recover in about two weeks but older adults and people with pre-existing health problems, it can cause more severe illness, including pneumonia. The virus attacks mainly the lungs and heart.
President Trump has called for a more inclusive temporary travel ban to be enforced and to begin on Friday.
The President and Vice President Mike Pence have both been giving televised public announcements over the concerns of the coronavirus.
This is not a time to be planning travel. Keep safe and wash your hands often. Keep away from large gatherings and stay home if you feel sick and contact your healthcare provider.