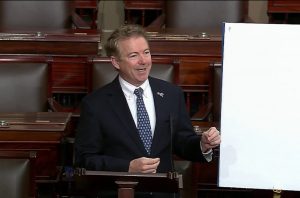 by Daveda Gruber:
Last week I wrote an article that showed that Senator Rand Paul R-Ky., tried to submit a question to Chief Justice John Roberts during the impeachment trial of Donald J. Trump in the Senate.
Roberts rejected the question and it was disallowed.
The question was tweeted by Paul after it was blocked by Roberts.
On Tuesday, after describing his question and the fact that it was blocked by Roberts, Paul announced that he would read his question on the Senate floor.
Paul said, "Now during the proceedings, I asked a question that was disallowed. And I'm going to ask that question again this morning, because the Constitution does protect debate and does protect the asking of questions. I think they made a big mistake not allowing my question. My question did not talk about anybody who is a whistleblower. My question did not accuse anybody of being a whistleblower."
Paul is known as a leaning Libertarian type of Republican and he's also known to be well versed in the Constitution.
He went on to say, "And you say, well we should protect the whistleblower, and the whistleblower deserves anonymity. The law does not preserve anonymity. His boss is not supposed to say anything about him, he's not supposed to be fired. I'm for that."
The reasoning behind Paul naming the two name was that of concern of a plot to take down President Trump.
Paul continued, "My point is, is by having such protection, such overzealous protection, we don't get to the root of the matter of how this started. Cause this could happen again."
Here is Rand Paul telling the Senate his question:
I can always be reached on Twitter to discuss your political views.
@DavedaGruber