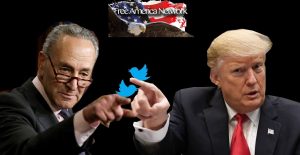 by: Daveda Gruber:
Senate Minority Leader Chuck Schumer sent a letter referencing President Trump and it wasn't very polite.
Trump had been tweeting and in a tweet said that the nation's intelligence chiefs were "naive" about Iran and perhaps should "go back to school and Schumer came back with a nasty reply in a letter to director of national intelligence Dan Coats.
Schumer D-N.Y., suggested that it was the president who needed tutoring.
On Tuesday during a Senate Intelligence Community hearing Coats spoke about ISIS' strength, North Korea nuclear weapons program and the Iran nuclear deal in extremely different terms than Trump does.
Coats, FBI Director Chris Wray and CIA Director Gina Haspel, became the target of Trump's anger on Wednesday morning for their statements.
Schumer wrote to Coats and later said, "I believe it is incumbent on you, Director Wray and Director Haspel … to impress upon him how critically important it is for him to join you and the leadership of our Intelligence Community in speaking with a unified and accurate voice about national security threats."
Schumer tweeted:
It's past time for U.S. Intelligence Community leaders to stage an intervention with @realDonaldTrump.

My letter to Dan Coats, the Director of National Intelligence: pic.twitter.com/RVC2WvVcj7

— Chuck Schumer (@SenSchumer) January 31, 2019
The intelligence chiefs had told the Senate panel that North Korea was unlikely to dismantle its nuclear arsenal and that the Iran nuclear deal was working.  It was this verbiage that drew responses from the president via Twitter:
The Intelligence people seem to be extremely passive and naive when it comes to the dangers of Iran. They are wrong! When I became President Iran was making trouble all over the Middle East, and beyond. Since ending the terrible Iran Nuclear Deal, they are MUCH different, but….

— Donald J. Trump (@realDonaldTrump) January 30, 2019
….a source of potential danger and conflict. They are testing Rockets (last week) and more, and are coming very close to the edge. There economy is now crashing, which is the only thing holding them back. Be careful of Iran. Perhaps Intelligence should go back to school!

— Donald J. Trump (@realDonaldTrump) January 30, 2019
Trump was adamant that U.S. relationship with North Korea "is the best it has ever been." He also pointed to a halt in nuclear and missile tests by North Korea, the return of some U.S. service members' remains and the release of detained Americans as signs of progress.
A second Trump-Kim meeting or summit is expected in February.
The U.S. intelligence agencies also said that Iran continues to work with other parties to the nuclear deal it reached with the U.S. and other world powers. They said it has at least temporarily lessened the nuclear threat.
Trump withdrew the U.S. from that Obama-era accord in May 2018, which he called a terrible deal that would not stop Iran from going nuclear.
Schumer's letter to Coats brought to light what many Democrats said about Trump's tweets.
Sen. Mark Warner, the senior Democrat on the Senate's intelligence panel, said in a tweet:
The President has a dangerous habit of undermining the intelligence community to fit his alternate reality. People risk their lives for the intelligence he just tosses aside on Twitter. https://t.co/BfRlqcM6rd

— Mark Warner (@MarkWarner) January 30, 2019
What did you expect a nice tweet? No, the Dems don't play that way.
Keep in mind that Democrats will keep up their bashing of Republicans especially our President. Trump is under attack every day.