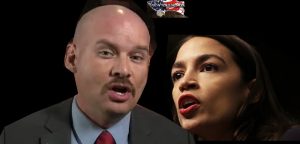 by Daveda Gruber:
Representative Alexandria Ocasio-Cortez D-N.Y., has likened southern  border facilities to concentration camps.
National Border Patrol Council (NBPC) Vice President Art Del Cueto, was not going to sit back and listen to Ms. Ocasio-Cortez's opinion without criticizing her.
Ocasio-Cortez posted to Instagram and said in her video,  "The fact that concentration camps are now an institutionalized practice in the land of the free is extraordinarily disturbing."
See the video here:
Del Cueto was on "America's Newsroom" on Tuesday morning and he expressed his frustration with her statements.
Del Cueto then offered to personally escort the freshman lawmaker around a facility to prove his point about the humane treatment given to migrants.
He also made a point to offer advice to Ocasio-Cortez by stating that she should "crack open a history book" about the Holocaust before making such comparisons.
Del Cueto said, "It is definitely a slap in the face to a lot of those people who had family members who actually went through concentration camps."
Ocasio-Cortez has proven not to be fan of Immigrations and Customs Enforcement or ICE to be abolished.
In February AOC claimed that "Latino people are descendants of Native people" and should not be subject to U.S. immigration laws.
AOC tweeted this last year:
The child detention camps are here – I confronted the border officers myself.

Using their names, I told them exactly what they are responsible for.

One of them made eye contact with me.
I spoke directly to him.
I saw his sense of guilt.
We can dismantle this.#AbolishICE pic.twitter.com/QLyc9MAnkt

— Alexandria Ocasio-Cortez (@AOC) June 24, 2018
These are recent tweets from AOC:
This administration has established concentration camps on the southern border of the United States for immigrants, where they are being brutalized with dehumanizing conditions and dying.

This is not hyperbole. It is the conclusion of expert analysis ⬇️https://t.co/2dWHxb7UuL

— Alexandria Ocasio-Cortez (@AOC) June 18, 2019
And for the shrieking Republicans who don't know the difference: concentration camps are not the same as death camps.

Concentration camps are considered by experts as "the mass detention of civilians without trial."

And that's exactly what this administration is doing.

— Alexandria Ocasio-Cortez (@AOC) June 18, 2019
Hey Rep. Cheney, since you're so eager to "educate me," I'm curious:

What do YOU call building mass camps of people being detained without a trial?

How would you dress up DHS's mass separation of thousands children at the border from their parents? https://t.co/OOfrrfa1Ew

— Alexandria Ocasio-Cortez (@AOC) June 18, 2019
AOC got some feedback tweets, this is one of them:
Sorry @AOC but the genocide of millions of Jews and illegal immigration detention centers look nothing alike.

To compare the two is a massive insult to the memory of millions of people slaughtered in the Holocaust. pic.twitter.com/updSK6ZH11

— LifeNews.com (@LifeNewsHQ) June 18, 2019
President Trump has actually responded in a very different way. Trump apparently has a plan of his own to stop illegal immigration. ICE will now be returning illegal immigrants to their own countries.
If we don't keep the illegal migrants here in the U.S., we won't have to detain them in detention centers. Problem solved. Case closed.
Well, this has been a long time coming. ICE agents will now be allowed to do their jobs.
Trump tweeted this:
Next week ICE will begin the process of removing the millions of illegal aliens who have illicitly found their way into the United States. They will be removed as fast as they come in. Mexico, using their strong immigration laws, is doing a very good job of stopping people…….

— Donald J. Trump (@realDonaldTrump) June 18, 2019
….long before they get to our Southern Border. Guatemala is getting ready to sign a Safe-Third Agreement. The only ones who won't do anything are the Democrats in Congress. They must vote to get rid of the loopholes, and fix asylum! If so, Border Crisis will end quickly!

— Donald J. Trump (@realDonaldTrump) June 18, 2019