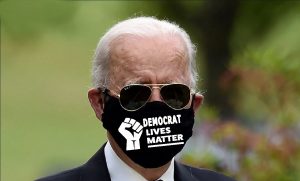 Slowly law enforcement is starting to understand that the only way to stop someone from attacking you is to fight back.
The false mantra of Black Lives Matter has cost American law enforcement, of all colors, some of their lives.
Others have been sued, fired, and even jailed.
Those in the policing business who continue to vote Democrat and join the traitors who continue to fall to their knees under a false premise of police brutality are getting exactly what they deserve.
Mayors, sheriffs, chiefs, and even front line officers and deputies who support those who break the law daily will receive no  grace when the time comes to eradicate the vermin.
It is well past time for those in elected positions of authority to show courage, moral and otherwise.
Character is not built, in or under, stressful situations.
It is revealed.
Liberal cities have proven over and over that the only thing to occur under their watch is to take advantage of a good crisis or "You never want a serious crisis to go to waste."
Due to the electorate, crisis and crises continue and are now spidering into small cities and towns because too many in these locations are not responding properly.
One Sheriff in Nevada decided enough was enough.
A local library board voted to support BLM.
Their statement is listed below.
"We support #BlackLivesMatter," the statement, drafted by the county's board of library trustees, continued. "We resolutely assert and believe that all forms of racism, hatred, inequality and injustice don't belong in our society."
The Sheriff of Douglas County, one Dan Coverly, responded immediately.
"Due to your support of Black Lives Matter and the obvious lack of support or trust with the Douglas County Sheriff's Office, please do not feel the need to call 911 for help. I wish you good luck with disturbances and lewd behavior, since those are just some of the recent calls my office has assisted you with in the past.
Numerous Black Lives Matter protests have resulted in violence, property damage and the closing of local businesses, sometimes permanently," the sheriff added. "To support this movement is to support violence and to openly ask for it to happen in Douglas County."
To support this movement is to support violence and to openly ask for it to happen.
Truer words were never spoken.
The library "trustees" attempted to send up a flare, a beacon, to anti-American forces that Douglas County was open for business.
The Sheriff told them they would have to deal with their behavior. . .on their own.
County officials reportedly made the "trustees" take this statement down and continued to try and save face and said they love their law enforcement.
BLM has called and continues to call for the defunding of Police.
No logical mind would ever refer to removal or "death" of law enforcement as love.
Sadly Liberals and logic are like oil and water.
Let me be clear.
Those who take a knee are kneeling on these United States.
Those who support BLM are supporting bigotry and lies.
Black humans kill law enforcement in greater numbers than the other way around.
Still, if one wants to defund the police there is a simple way for this to happen.
Stop committing crimes.
It is a statistical fact that the removal of Black males, in a certain age range, from society, would drop criminal activity literally overnight.
Add to this list the removal of all Criminal Foreign Nationals in America and the need for Police would so dramatically decline we would have more than enough room for all the predators, politicians, and priests.
Humans here illegally from Mexico, Guatemala, Honduras, Russia, China, India, etc., and Sharia compliant countries cause an incredible amount of death and destruction in our country.
Of course this makes too much sense and can be overwhelming to the masses who willing wear a mask while inhaling their own CO2 that Progressives are convinced will "kill the planet."
If it's killing the planet one can only imagine what it is doing to the internal organs of a human.
It can also seem a daunting task to try and categorize all the threats to freedom in America.
Let us make it easy.
From this day forward our greatest enemy is not Russia, China, or even Islam.
Our greatest enemy to Freedom and to our Republic is the group that promoted and protected slavery.
Our greatest enemy to Freedom and to our Republic is the group that promotes and protects human trafficking and child molestation.
Our greatest enemy to Freedom and to our Republic is the group that continues to abuse the American Individual by promoting gangs, bigotry, and hate.
Thy name is Democrat.
Hang em all for the world to learn.
Hang em high for the world to see.
For the Great Experiment to continue Democracy must never reign and those who support the concept of the "communal masses" over the Individual  must experience the righteous fury of the Americans they have oppressed.
Like their historical brethren Liberals must go the way of the Tory, the Nazi, and the Commie and those who've knelt in passive submission must receive more than public shaming and a head shaving.
Into the annals of history synonymous with the French whores they have become.
Heads bowed, bent over at the waist, proving again and again the ethical flexibility of those who choose to live in their own rectums and without a spine.
Jason Kraus
www.aleadernotapolitician.com
www.freeamericanetwork.com