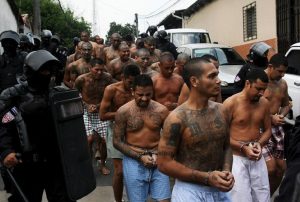 by Daveda Gruber:
On Friday prosecutors in New York state announced the arrests of close to one hundred members and associates of the notorious MS-13 gang.
It was, in fact, the largest concentrated effort against the gang in the state's history.
Investigations that began about two years ago, involved law enforcement from local to federal levels. One of the breeding grounds for the gang is Suffolk County and that is where the investigation was focused.
Suffolk County District Attorney Timothy Sini told reporters Friday, "The goal of this investigation was to deliver a major blow to the gang's leadership, operations and recruitment in our region . . .  we did exactly that. This operation helped end the New York program."
According to Sini, ninety-six members and associates of the MS-13 gang were charged with crimes that range from conspiracy to commit murder to drug trafficking and weapons sales.
Those arrested range in age from 16 to 59 years of age and include U.S. citizens and illegal immigrants.
The arrests were allegedly made on Thursday and Friday mornings.
During the investigation authorities had recovered drugs in possession of gang members such as cocaine and fentanyl. Also recovered were handguns and more than $200,000 in cash.
The investigation resulted in the arrests of nine clique leaders in Suffolk County. Seven murder plots were allegedly foiled.
Sini also said, "MS-13 is a ruthless, savage gang that commits acts of violence to recruit, retain and control its members and exact revenge on its rivals as well as to extort innocent members in our community."
During a press conference Sini held up a machete that he said was recovered during the recent arrests.
Sini stated, "This depicts how brutal and savage this gang is."
The MS-13 gang is also known as Mara Salvatrucha. They recruit young teenagers from El Salvador and Honduras but there are also many gang members who were born in the U.S.
Dozens of murders have been blamed on the gang since January 2016. The killings occurred in New York's Long Island, in Suffolk County, and the Los Angeles area and the D.C. suburbs.
President Trump brought the MS-13 brutal killings to the forefront and that fact has led to the crackdowns by law enforcement.