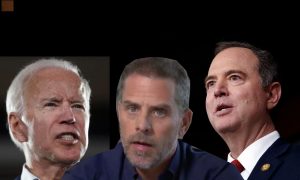 by Daveda Gruber
On Friday House Intelligence Committee Chairman Adam Schiff D-Calif., called out Russian interference on the latest scandal but this time it isn't about President Trump.
Schiff described emails which were found on a laptop allegedly belonging to Hunter Biden as part of a Russian disinformation campaign intended to smear Joe Biden.
Speaking on CNN, Schiff said, "We know that this whole smear on Joe Biden comes from the Kremlin. That's been clear for well over a year now that they've been pushing this false narrative about this vice president and his son."
The New York Post originally broke the story that a laptop was recovered that belonged to the Democratic nominee for president's son, Hunter,
The emails that were referenced reveal that Hunter Biden allegedly introduced his father to a top executive at Ukrainian energy company Burisma Holdings in 2015.
Yet another email appears to allegedly outline a payout for Biden as part of a deal with a Chinese energy firm.
A source, who was copied on the email about the Chinese energy firm, confirmed its legitimacy.
On July 25th President Trump was on call with Ukraine's President Volodymyr Zelensky and Trump asked the president to look into Biden's dealings in the country.
That led to an impeachment inquiry that ultimately failed in the Senate.
But the box of worms had been open and Trump has referred to the emails mentioned by the Post.
Not surprisingly, Schiff  had other ideas about the emails.
Schiff  said, "The origins of this whole smear are from the Kremlin and the president is only too happy to have Kremlin help in trying to amplify it."
It has also been reported that the FBI is investigating whether the emails are tied to a foreign influence operation.
It is not clear what the exact scope of what was being investigated.
Schiff, who was one of the main figures in the investigation into allegations about Russian interference in the 2016 election and then again in 2019 in the impeachment hearings.
Schiff also claimed to have evidence of collusion between the Trump campaign and Russia.
No evidence has ever been released but Schiff keeps stepping up to speak about anything to do with Russia.
In May, even the Wall Street Journal accused Schiff of spreading "falsehoods shamelessly about Russia and Donald Trump for three years even as his own committee gathered contrary evidence."
Schiff also said on Friday that Russia has an "obvious interest" in denigrating Biden and wants Trump to win.
While Schiff called Trump the gift that doesn't stop giving" in relation to Moscow he also said, "I think we know who the driving force behind this smear has been all along, it's been the president and the Kremlin."
Is Schiff an expert on Russian ties to anything? No, but he seems to get his face and voice on CNN whenever Russia comes up.
How many times must the general population have listen to the fake news discussing Russia with a man who was duped by comedians pretending to be Russians who had dirt on Trump?
I can answer my own question. All I have to do is count the days until November third.
TRUMP 2020