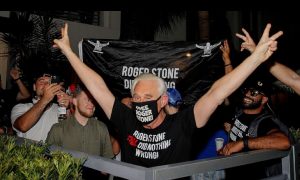 by Daveda Gruber:
Late Friday the White House announced that President Trump had signed an Executive Grant of Clemency for Roger Stone.
Stone was sentenced to more than three years in prison. Last year he was convicted on seven counts of obstruction, witness tampering and making false statements to Congress. All of the convictions were in relation to FBI Special Counsel Robert Mueller's Russia investigation.
Stone has appealed the conviction and denies wrongdoing. He was supposed to report to prison on July 14th.
He would have had to serve forty months. The President stepped in and the White House reported that the President had commuted the sentence "in light of the egregious facts and circumstances surrounding his unfair prosecution, arrest, and trial."
Trump tweeted:
Roger Stone was targeted by an illegal Witch Hunt that never should have taken place. It is the other side that are criminals, including Biden and Obama, who spied on my campaign – AND GOT CAUGHT!

— Donald J. Trump (@realDonaldTrump) July 11, 2020
Not everyone was happy about Trump's decision. Of course Democrats were against what Trump did but one Republican joined them in their rhetoric.
On Saturday Senator Mitt Romney, R-Utah, tweeted this:
Unprecedented, historic corruption: an American president commutes the sentence of a person convicted by a jury of lying to shield that very president.

— Mitt Romney (@MittRomney) July 11, 2020
It is no surprise that Romney would disagree with anything that Trump does and has had feuded with the president in the past. He was the only Senate Republican to vote for an article of impeachment in Trump's Senate impeachment trial.  Trump was accused of "obstruction of Congress" but was acquitted by the Senate.
Democrats accused the president of corruption. House Speaker Nancy Pelosi promised that Congress would act on the matter.
A statement by Pelosi on Saturday said, "President Trump's decision to commute the sentence of top campaign advisor Roger Stone, who could directly implicate him in criminal misconduct, is an act of staggering corruption."
The statement went on to say, "Congress will take action to prevent this type of brazen wrongdoing. Legislation is needed to ensure that no President can pardon or commute the sentence of an individual who is engaged in a cover-up campaign to shield that President from criminal prosecution."
Pelosi tweeted this:
President Trump's decision to commute the sentence of top campaign advisor Roger Stone, who could directly implicate him in criminal misconduct, is an act of staggering corruption. https://t.co/Ljqu2E71zs

— Nancy Pelosi (@SpeakerPelosi) July 11, 2020
Democrats will always dispute what Trump or his administration do. They will do anything they can, with the help of the mainstream media, to try to stop Trump from being elected in November.
The presumptive presidential nominee and former Vice President, Joe Biden, got on the put down Trump bandwagon and tweeted this:
Still true. https://t.co/3zbAD3uXzq

— Joe Biden (@JoeBiden) July 11, 2020
Stone  is 67 years old so he could be considered high risk for COVID-19.
A multitude of hardened criminals, who committed heinous crimes, have been released from prisons all over the country because of the coronavirus.
Stone is not a threat to society so why can't Democrats just let it go?
There is a hate that the Democrats and Romney, who is a Republican in name only, hold that is very deep. Could they be afraid of Trump getting re-elected for a multitude of reasons?
Not only are the political differences at stake, there are a number of Politians in high places that may have accumulated large amounts of money that they have not been able to rationalize.
How many criminals are involved in government? Why are they not going off to jail cells?
We live in a two tier system. Democrats who do wrong don't seem to go to prison let alone get indicted.