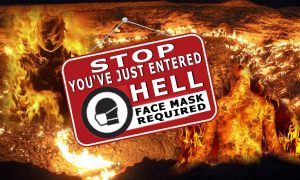 Thursday of last week found me driving around the Northern California/Tahoe area handling some business.
The beauty of the forest and the lake disappeared quickly as it looked as though I'd arrived in Saudi Arabia.
Everywhere eyes were peering out over a wide variety of visors, scarves, and ramshackle pieces of material.
The fear of the RONA was ridiculously here.
As I approached my first location I passed a guy with a mask hanging off one ear, smoking a cigarette.
Apparently COVID doesn't like tobacco.
Climbing the stairs I watched people put on their scarlet letters to enter a building that had placards for all to see.
"Masks are required."
I walked in right behind them, sans mask, and went about my business.
No one said a word although I did see a guy brandishing the fashionable one ear hanging look with a drink in his hand.
As he walked with his "juray" his earring fell to the floor.
He stooped, scooped and put it back on his face.
Well done good little German.
Well done.
With my work complete I exited the premises, past two masked security guards, jumped back in my truck, and headed on down the road to a gas station.
When I finished filling up I stepped inside the attached Safeway mini market.
Now, I've shopped at Safeways all over California for years and never had a problem not wearing a cover, but apparently the minimart in South Lake Tahoe is being run by a different Panzer division.
As I entered I was verbally inundated by three wildly wrapped, head to toe humans, ensconced in plexiglass.
"Do you have a mask? You need a mask."
I moved through the little store to look for a MET-Rx bar.
400 calories 30 grams of protein and they actually taste pretty good.
"I don't have a mask," I said in a VERY clear voice, "I don't need one."
I continued to search when a shrill voice started to threaten about fining me $100.
I turned and faced the Nazi Trifecta, who were hiding in their see through room and said, "Go ahead, fine me."
One of the Tories started to ramble about $500 fines.
I simply said, "Medical, and that's all you need to hear."
Their gums stopped bumping.
Mine continued as I stated loudly, "It's people like you who continue to hide that are making it harder on yourselves."
I found my bar, took it to the counter, and met all of their eyes.
None of them said a word or looked above my chest.
I paid, grabbed my bar and exited as one of them sarcastically said, "Have a great day!" to my back.
I laughed and said, "You too," over my shoulder.
What a bunch of clowns.
For the record, to enter any business, all you have to do is say, "Medical" and you will be left alone.
I'm not going to give a breakdown of HIPAA right here but it can be helpful if you allow it to be.
When need be I allow it as I've never worn a mask.
For those of you who want to have a little fun while dealing with these wannabe commies, tell them you have Carbon Dioxide Hypoxia and it's deadlier than the RONA.
Leaving Tahoe my next stop was a gun store with zero masks where I shook the hand of the owner who was also a Vietnam Veteran.
I'll tell that wonderful story another time.
Finally after a long day I arrived home to the television flashing.
Fox Breaking News!
Tucker Carlson was reporting that the Biden crime family was on the take.
Joe Biden is corrupt!
What???
Water is wet?
The sky is blue?
There's gambling in this establishment?
His son Hunter, a poorly named stripper impregnating crack addict, who has been funneling money from I'm sure many countries, including China, to his father, was caught in the act, by yep you guessed it, a laptop.
You don't say.
What is it with these Democrats and laptops?
Anthony the Weiner, Hillary BleachBit Clinton and now dead brother wife banging baby Biden.
Of course none of this is new, even to the Liberals.
They simply don't care.
They didn't care when Bill raped women, took flights with Epstein, and lied under oath.
They didn't care when Hillary sold access to uranium, committed multiple "server" felonies, and deserted Americans under fire.
They didn't care when Obama trafficked guns into Mexico, causing the deaths of Americans and Mexicans, and helicoptered dropped cash and gold into Iran in the middle of the night, causing the deaths of American military.
They don't care that Sharia is happening in Minneapolis, that Portland looks like Gaza, or that criminal foreign nationals have been and are voting in our elections.
They don't care about the First or Second Amendment.
Never have never will.
They don't care that somewhere today late term babies were killed, cut into pieces, and sold.
They don't care that American citizens were murdered today by illegal aliens.
They don't care that cops are dying.
They don't care.
It's time we stopped caring about them.
For those who believe your skin color matters.
It does not.
For those who believe you control the climate and the weather.
You do not.
For those of you who believe these United States are a Democracy.
It is not.
A great mind once said that they would trade everything they know for everything they don't.
Stunningly, Liberals believe they don't need to make that exchange.
So be it.
The time for disagreeing agreeably is over.
The opportunity to "reach across the aisle" is gone.
The Great Experiment is under attack from within and thy name is Democrat.
For those of you who fall under this moniker take heed.
There will be no deal.
You will find no safe zones.
Your mask will not save you.
A Farrakhan loving Hebrew hating portly "writer" from Florida named Leonard Pitts recently threatened Americans who support President Trump by saying, "We will not forget, and we will not forgive."
Have no fear Black Lives Traitor Lenny.
Americans feel the same way.
Put down the slim fast and pick up a weapon.
Your pen is writing checks your body can't cash.
I've had enough.
We've had enough.
You have two weeks.
President Trump is your best option.
Orange Man, as you call him, is indeed your carrot.
You better embrace your vegetables.
The stick will be unforgiving, but soon after, you will all be forgotten amidst a beautiful pyre.
Like dust in the wind.
Buried in the pits of hell. . .right next to Leonard.
Jason Kraus
www.aleadernotapolitician.com
www.freeamericanetwork.com