by Daveda Gruber:
Ohio was always a priority state for any election. It has always been said that if you want to win an election, you must win Ohio. That concept seems to have been dumped.
Hillary Clinton had the support of a top Democratic super PAC that spent $133 million in 2016. The PAC says that it no longer considers Ohio a target state for the 2020 presidential election.
Why, you ask? The PAC wants to align itself with the extreme left or socialist Democratic Party.
Yes folks, the Democrats are not even trying to reach Conservative or even Independent voters. In fact, they are grasping hold of socialist leaning leaders and voters. That is the game plan.
Priorities USA is a moneyed super PAC that supported both President Barack Obama's 2012 re-election campaign and Clinton's 2016 run for the White House. They labeled the state a "GOP Watch," along with states such as Texas and Iowa in a memo.
Ohio seems less likely to flip than other swing states according to the PAC.
Here is some interesting information:
Priorities USA Presidential… by on Scribd
The PAC sees Florida, Pennsylvania, North Carolina and even traditionally red states like Georgia and Arizona more easily attainable.
Josh Schwerin is a spokesman for Priorities USA. He told the outlet. "It's not in our initial spending plans. It is in the states to watch-and-see if an investment is worth making."
Schwerin added, "That doesn't mean we don't think Ohio is winnable for a Democrat. What we think that means is if Ohio is in play, we'll have already won the easier states and have 270 electoral votes. Our investment strategy is how to get to 270 electoral votes."
Then Candida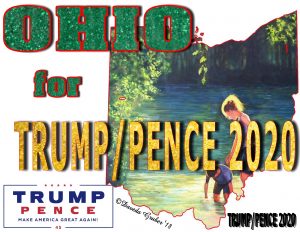 te Trump won Ohio by 8 percentage points in 2016 and former President Barack Obama won the state by 3 percentage points in 2012.
Priorities USA is a vehicle used by Democratic presidential candidates. It spent $126 million against President Trump and around $6.5 in support of Clinton in 2016.
There are some local Ohio Democrats who have mocked the notion that their state, the so-called "Mother of Presidents," was no longer a swing state that a White House hopeful must carry to seal a victory.
I find this to be a rather big mistake on the Democratic side, but then, I'm not looking for a Democratic win in Ohio or any other state, for that matter.
In order to keep America from going full blown Socialist, we must have Republican voters out in the masses. We also need Democrats who do not want Socialism to take over this country and Independent voters, as well.
Stand your ground folks. This won't be easy. There are opponents in all directions. The younger generation along with older Leftists of the American people have been drastically radicalized to the LEFT. We, on the RIGHT must fight for our freedom. Getting our vote out in 2020 will be the most important thing we ever do for our country.