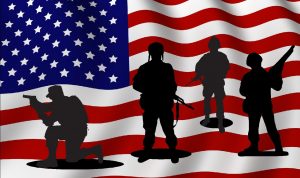 "Technology" it has been implied, always makes the human condition better.
This is of course subjective but overall appears to be true as more checks are found in the positive column than negative. Electricity, the automobile, and the Internet are just a few and of course these United States are responsible for them all.
The Great Experiment, as America has been called, has been butchered, bent, and even broken in its actual concept.
The Great Experiment "doesn't take a village," has no connection to the Majority (Democracy) and does not propagandize about the "needs of the many over the few" (Communism).
The Great Experiment was meant to ask one question.
Can the Individual human handle their own affairs?
Can the Individual handle actually being free?
Centuries before the U. S. A. the answer was decidedly no.
Whether severe Oppression or simply evolution, the minds of Socrates, Plato, and Aristotle (whom all had slaves) eventually found their way into one Adam Smith who theorized that societies were more successful when the Individual was free to make their own choices and benefit from the fruits of their own labor.
That the Individual human would work harder when he or she controlled their own outcome.
This concept would be forever known, at least by those who actually read more than the tripe on social media search engines, as the Invisible Hand.
This unseen force has been proven true again and again as these United States have less than five percent of the Earth's population but are the creators of literally everything that has ever "changed" the world.
Of course with incredible success one must always expect to eventually deal with the worst of the human condition.
Jealousy, greed, and apathy are but three specific detriments seemingly found circling the success of others.
The key to minimizing these negatives is found in the verse of Mr. Smith.
Create systems that free the Individual to dream, strategize, work, and then work harder allowing their capacity to increase by the collection of information found through their attempts.
This information is then used towards their own benefit while propelling forward the growth of said society.
In other words, evolution through the biological exercise of thought, also known as knowledge.
The same exercise that created The Declaration of Independence and the U. S. Constitution.
For this to occur there must always be a check and balance.
Actions, rewards, and consequences.
When actions have rewards that benefit the Individual and the Society, Society moves forward, in a positive fashion.
Of course "rewards" are subjective but in most Western nations, a code or an agreed upon set of rules, that are enforced, clears the field of those who do not want to respect the Rule of Law.
These are again called consequences, used to be referred to as Justice, and is one of the major reasons America is struggling so mightily today.
Whether it is the street urchins burning buildings, the Wall Street/Federal Reserve con artists, the religious human traffickers, or the politicians who protect them all, today's Invisible Hand is being twisted into such a position, the only chance for it to survive is to join other Hand's to require, and more than likely enforce, the code, by providing consequences.
By enforcing the Rule of Law.
Because the Great Experiment is now being treated as a Democracy, Socratic Theory's Fourth phase, also known as mob rule, other than the Republic it was meant to be, groups are now forming.
Newton's Third Law states every action has an equal and opposite reaction, and as oppressive forces continue to act, forces will form to provide an opposite option.
Depending upon the time frame these actions are sometimes referred to as war, as humans who refuse to accept the slide into Tyranny, the Fifth phase of Socratic Theory, start entering into very specific acts and actions in their attempt to remove themselves, their children, and their country from Socratic Theory altogether.
The voting group, known as Democrat, has completely embraced all forms of Socrates musings and will willingly go along through any and all transitions.
This is not only not new, a brief look with open eyes around the globe paints an extraordinary vision of the majority of humans willing to embrace systemic oppression as billions huddle in fear because they lack the yearning to be free.
Who tolerate, even welcome the scraps of others and allow for the provision of their primary needs as technology overwhelms their senses with processed food, damages their rods and cones with Pavlovian television, and spreads the sickness of Tik Tok voyeurism in all directions.
China, India, Russia, every country in Africa and all nations practicing Sharia are filled with those who expect nothing of their lives as they are not willing to risk them for liberty.
The masses who await their masters decisions afforded to them by Kings, despots, and dictators.
America is special, yet for Her to remain the beacon of Freedom for mankind some hard truths must be faced.
The majority of humans in America today have poor habits including but not limited to nutrition, economics, and emotional courage.
The majority of humans in America are unwilling to stand on their own two feet and deliver their own destinies through hard work and perseverance.
The masses have been instructed first to work smart not hard, then to not work at all to foster servitude and protect oppressive debt ridden systems that have been layered upon us for over a century.
The proper application of the genius Adam Smith is to work smart AND hard allowing growth through one's personal experience.
This is no longer taught and will be the death of the Great Experiment, unless those that can right this ship, do.
The great minds of the past have been replaced with the abuse of technology by overstimulation of a human's base desires.
Sex, drugs, and obesity screaming for their next orgy, their next fix, their next Ben and Jerry's.
The Sixties have arrived in full bloom and it is a perverted Woodstockian mess.
Two political Parties who are easily labeled Traitors and Cowards have leveraged the People through the creation and milking of a "good" crisis, one after the other.
A President was framed, a coup attempted, buildings are burning, law enforcement in many cities is refusing to arrest and prosecute crime, reporters are being snatched out of their homes on "secret grand jury charges" and a five year old boy was murdered in his front yard as he played, reportedly because of the color of his skin, while Liberals celebrate and embrace it all, hiding behind their masks.
It is well passed time for the adults to step in, slash and burn the fields, and let American soil heal, so our children and children's children actually have a chance.
A chance Cannon Hinnant will never have.
America's future is up to us. . .until it isn't.
At that time we will lose our future as well.
Freedom has never been free.
It never will be.
Be ready to move at a moments notice and do what we all know needs to be done or prepare yourself to suffer at the hands of the mob as they roam from city to city.
There is a saying that things must get worse before they get better.
Tell that to Cannon's family.
How much worse does it need to be?
Jason Kraus
www.aleadernotapolitician.com
www.freeamericanetwork.com