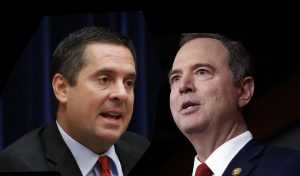 by Daveda Gruber:
On Wednesday Republicans decided to finally not stand for Democrat biased agendas and they have boycotted a public hearing.
In a powerful move of rebellion Republicans on the House Intelligence Committee accused Chairman Adam Schiff of ignoring Foreign Intelligence Surveillance Act abuse.
A Justice Department inspector general report disclosed substantial misconduct of FISA applications brought about the boycotting by the GOP of the House Intelligence Subcommittee on Strategic Technologies and Advance Research or STAR, as it is referred to, to refuse to attend the hearing.
Republicans did not attend and called it a "publicity" event.
It appears that Representatives Devin Nunes, R-Calif., ranking member of the committee and Chris Stewart, R-Utah, the ranking member of the subcommittee joined their Republican colleagues in collectively standing up to Adam Schiff, D-Calif., for not holding hearings on the FISA abuse.
Republicans claim that under Schiff's chairmanship the House Intelligence Committee has strayed far from its mandate of overseeing the Intelligence Community.
They are saying that there have been months where there has been inadequate oversight and that numerous critical issues pertinent to the Committee's jurisdiction were ignored.
DOJ Inspector General Michael Horowitz issued his FISA report on December 9th which identified seventeen serious shortcomings related to the conduct of the surveillance of former Trump campaign foreign policy aide Carter Page.
Republicans have argued that the committee is exclusively in the position to consider the serious legal and policy questions that arose from Horowitz's report.
There is a letter, written by Nunes and Stewart stating their demands and was signed by Republican Representatives Michael Conaway, Michael Turner, Brad Wenstrup, Rick Crawford, Elise Stefanik, Will Hurd, and John Ratcliffe.
Until the committee gives priority to the important issues in the Horowitz report, Republican Members feel that they cannot support distractions from core responsibilities.
Horowitz had confirmed in his report that the FBI's FISA applications to monitor Page heavily relied on the unverified Trump dossier and news reports rooted in dossier author Christopher Steele's unverified research.
Still, under Schiff's chairmanship these issues and errors have not been investigated although Schiff had acknowledged the misconduct at the time and stressed that bureau leadership was moving to implement the IG's recommendations.
It has become evident that Democratic lawmakers are more interested in staying on their own agenda of investigating President Trump and his associates rather than dealing with more prevalent issues.
Laws have been broken by people in high positions in the FBI and DOJ and Democrats with Schiff at the helm are simply ignoring it.
I can always be reached on Twitter to discuss political views.
@DavedaGruber