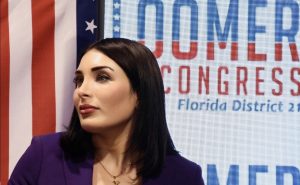 by Daveda Gruber:
Is the twenty-six year old Republican from Florida's district 21, Laura Loomer, the antidote to the "squad" led by Alexandria Ocasio-Cortez? Let's analyze this.
In an article from the New York Post GOP stragiest Roger Stone was quoted as saying, "She's the Repulicans' AOC. She's young. She's energetic. She's feisty. She's anti-establishment, and she has an enormous national following, as does AOC, which can help finance a congressional race."
Young people running for Congress are not always given the credit that they deserve. Loomer is full of energy and social media must fear her activism because she has been banned from Twitter, Facebook, Instagram, Medium, Paypal, Venmo, GoFundMe, Lyft, Uber, Uber Eats and MGM Resorts.
As for the bans on her, that alone may have inspired her to take a stand and run for office.
Loomer told the Post, "They silenced me and violated my civil rights. I started thinking to myself, that what happened to me will happen to everyday Americans who don't have my soap box."
The feisty Loomer leaves a lasting impression on those who meet her. She has some big name donors who contributed to her campaign. Home Depot billionaire Bernard Marcus gave her campaign $2,800 and Eric Javits, who is a former US ambassador donated $1,000 to her campaign.
Some feel that Loomer is a breath of fresh air from the sunshine state. According to filings in April with the Federal Election Commission, her campaign collected $204,786 in the first quarter of 2020. Her total donations are nearly $600,000 and that puts her way ahead of the combination of funds collected by eight GOP primary rivals.
Unlike AOC, Loomer has been labeled as being racist and Islamophobic. AOC has been labeled as being not the brightest bulb in the box and standing strong with her fellow "squad members" on anti Jewish rhetoric.
Loomer appears to be in good hands with Karen Giorno, who has spent thirty years in GOP politics and served as then candidate Donald J. Trump's 2016 Florida state director as her campaign director.
Giorno said, "The experience I had on the campaign with Donald Trump is really one of the reasons why I took a look at Laura Loomer. She reminded me a little bit of Donald Trump. She is very frenetic, in a good way, constant energy, high expectations of herself and others … she impressed me and I don't get impressed very easily."
This lively young woman is running for district 21 and that is where the Mar-a-Lago club is located. President Trump has recently made that his permanent primary address.
Loomer is strongly pro-Israel, tough on terrorism, pro-gun and a stanch supporter of President Trump.
If Loomer manages to get elected, and I sincerely believe that she will, she has a plan to take on AOC and her squad.
Loomer told the Post, "I am a one-woman squad. Republicans need more firepower. They need people who aren't going to cower in fear of these women."
Loomer who refers to the "squad" as "Jihadis," will first face off with other GOP runners for district 21 in an August 18th primary.
Assuming that she'll get through that easily, next she would go to her final matchup with the Democratic incumbent, Lois Frankel, who is a former West Palm Beach mayor who was elected to Congress in 2013.
Stone has said that Frankel is a weaker incumbent than Queens Representative Joe Crowley, who AOC famously knocked off in a huge upset in district 14 in The Bronx, New York, NY.
The New York Post tweeted this on April 18th:
'Republican AOC' Laura Loomer gains steam in congressional run https://t.co/ws2HszJpUK pic.twitter.com/brX1sBc6LB

— New York Post (@nypost) April 18, 2020
The tweet brought a mixture of responses. It appears that you either love Loomer or you don't. There doesn't seem to be middle ground here. She's very strong in her beliefs and I find it ironic that she's running in a district that President Trump will be voting in. Will she get his vote? I believe she will.
I'll put my money on Loomer for the primary and then again on her for the congressional seat.