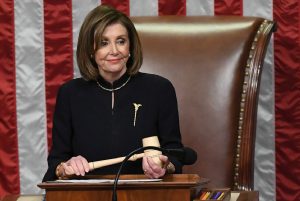 by Daveda Gruber:
Speaker of the House Nancy Pelosi D-CA., cannot be celebrating Christmas in a cheerful way. After all, she is holding onto the articles of impeachment that were supposed to go to the Senate.
Pelosi has had some frustration with the press when asked about why she broke tradition and rules for the first time in the nation's history and did not hand the articles of impeachment to the Senate.
She actually snapped at a reporter who asked her about why she didn't give the articles to the Senate and said, "Any other questions because I'm not going to answer any more questions on this… I'm not going to go there anymore."
Does Pelosi think she can extend her rule to the Senate as well as the House? Maybe she's living in an alternate universe? That universe must have a nice collection of spirits, in particular, vodka.
She has explained that she wants to make sure that the trial in the Senate, which holds a Republican majority is fair.
Watching the impeachment hearings to investigate if impeachment had cause in the House of Representatives was painful for me. There was no fairness. But then, the House has a Democratic majority and Pelosi is their leader.
Pelosi has no constitutional authority to make demands on the Senate's procedure. But, would she even understand that? The Founding Fathers must be rolling over in their graves after being referred to more during the past few weeks than in decades. Democratic lawmakers seem to believe that by evoking the Constitution, you make the public think that you are doing things in a lawful manner.
Unfortunately, Republicans are much more intelligent than Democrats give us credit for. We actually pay attention to politics and we're very aware when we are being fooled or lied to by the mainstream media.
Our system of government was created to not let government get out of control with power.
The truth of the matter is that Madame Speaker is obsessed with power and she is mistaken if she believes that the House has any power over the Senate.
Maybe Pelosi would like to change the rules, but fortunately for us, she can't.
In responses to criticism from across the aisle that questioned her motives, she  answered, "Frankly, I don't care what the Republicans say."
Needless to say, Pelosi has two comrades in her quest. Adam Schiff D-CA., and  D-NY., are Pelosi's chief clowns. They have created an unfair and unjust atmosphere that is beyond what I ever could have fathomed could actually take place.
Democrats have claimed that President Trump presents an immediate threat to our country and its security. They maintain that the need to eject him from office is an urgent matter. They could not afford to wait until November when voters, through an election, will have the chance to decide the fate of the president.
Because of such an emergency, people were told that House Democrats did not have the time to subpoena the witnesses they thought would make their case. Acting White House Chief of Staff Mick Mulvaney and former National Security Advisor John Bolton were not subpoenaed because of the lack of time.
The urgency seems to have dwindled.
The White House did bar some of the president's aides from testifying but Schiff and Nadler could have challenged in the courts if they wanted to. They declined to do so.
Maybe Pelosi sees that the articles she has a grip on are not worth the paper that they are written on. She needs more evidence and she could actually think that witnesses of her picking, could provide that.
Nancy seems to be stressed to the max. When you impeach a sitting President, in this case, President Trump, on flimsy charges that even their own constituents are bewildered about, it cannot have a happy ending.
She was asked not long ago whether she hated Trump, she didn't respond well. Pelosi ranted about being raised a Catholic and that she doesn't hate anyone. Really? Her hatred for Trump has been her driving force to impeach him.
Pelosi, in trying to act somber, wore black to announce the impeachment partisan vote results. Her black attire didn't fool anyone, including me. I saw the smirk on her face.
But even with the looming of impeachment hanging over Trump's head, his approval ratings have improved. In the 48 hours following the partisan vote, the Trump campaign collected more than $10 million and the Republican National Committee raised a record $20.6 million in November.
I believe that money talks and in this case it is the voters who are speaking with their wallets.
I must assume that the vodka will be flowing at the Pelosi household during the holidays. Drowning your sorrows in a bottle seems to be a rather popular sport for Pelosi.
It's probable that Pelosi may get coal for Christmas.