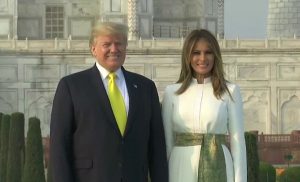 by Daveda Gruber:
During this time of uncertainty and stressful lockdowns, many people still have birthdays. Our beautiful and classy First Lady of the United States turned fifty years old on Sunday, April 26th.
According to the First Lady's chief of staff, Stephanie Grisham, Melania will spend her birthday in the White House.
Melania Trump was born on April 26, 1970 in the former Yugoslavia, which is now Slovenia. After moving to the United States for her career in modeling, she was married to then businessman Donald J. Trump in the year 2005.
The couple share a son, Barron Trump who was born in 2006.
During her time as the First Lady, Melania has launched her "Be Best" initiative to steer children away from cyberbullying and drug use.
During this time coronavirus (COVID-19), she's using her platform to encourage the American people to practice social distancing and do whatever they can to help those on the front lines of this coronavirus by sending care packages to hospitals.
There were many who wished her well on social media. Twitter has been buzzing with tweets to Melania, including her husband, President Trump.
Trump tweeted:
Happy birthday to our lovely First Lady! 💕

— LORI HENDRY TEXT TRUMP TO 88022 (@Lrihendry) April 26, 2020
My response to this tweet was:
Happy Birthday Melania!

Hoping your day turns out great
with yummy cake on your plate.

May love surround you today
and all good things come your way!@FLOTUS
@realDonaldTrump
@POTUS

©Daveda Gruber pic.twitter.com/nVhbNiCsWG

— Daveda Gruber (@DavedaGruber) April 26, 2020
A response from the black community was represented by a great patriot, Terrence K. Williams:
Happy BIRTHDAY MELANIA TRUMP

The Black community loves you and appreciate you so we made a very special video for you!

We are honored to wish you happy birthday!

You deserve more respect than you get. God bless you First Lady!

Today is your day pic.twitter.com/c6j4fvf00Y

— Terrence K. Williams (@w_terrence) April 26, 2020
The deplorable crowd were there with well wishes for our FLOTUS.
Happy Birthday @FLOTUS!

Best First Lady in history!

Your husband ain't bad either🤔 pic.twitter.com/lBPfRNhMT5

— Deplorable🎃Texan (@MediaJuggernaut) April 26, 2020
A couple of friends of mine tweeted these:
Happy birthday Melania, I pray your day is as beautiful as you are! pic.twitter.com/oHJDDMhqU5

— Kevin (@KevinKi89841635) April 26, 2020
Happy Birthday, First Lady Melania!! @FLOTUS You are the epitome of beauty, grace, intelligence! You are loved by Patriots everywhere!! Thank you for all you do! May God continue to bless you all of your days💜💜💜 pic.twitter.com/w2XcySKEVB

— 💜Sass💜💋RabbleRouser💋 (@SassySouthern10) April 26, 2020
We cannot stop the hate because haters will always hate. The negative tweets are just not worth my time or effort.
Happy Birthday Melania! Those of us who are not obsessed with hate, actually love you!