by Daveda Gruber:
Do you have a dog? I have a sweet little three pound chocolate colored teacup poodle named Lady Godiva. Her name seems irregular to some but I had reasons to name her that.
Lady is so there is no mistake that she is a female dog. Godiva is for "Godiva Chocolate" and the fact that GOD is in my dog's name will hopefully keep her protected from anything she faces in life.
Other people give thought to their dog's name too.
In Florida a police dog was given the name TRUMP. A photo became a viral Facebook meme this week.
The image of a patrol car belonging to the Orange County Sheriff's Office with a decal featuring K-9 Trump's name has gotten more attention than anticipated.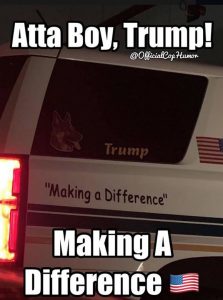 The Orlando Sentinel reported that the Facebook page of Cop Humor, a self-described pro-law enforcement conservative group, posted the meme with accompanying text that read, "Atta boy, Trump! Making a difference."
They tweeted:
#Florida police agency considering changing policy after one of its police dogs, named Trump, was featured in a Facebook meme. #K9#K9Trump @OrangeCoSheriffhttps://t.co/uRLipstqg9

— CBS4 Miami (@CBSMiami) March 22, 2019
Trump joined the sheriff's office in March 2018. Three months later, he began patrol duty.
K-9 names are left to the discretion of their human partners. There is no policy that dictates how the dogs should be named. It appears that this rule could change.
The video is here: