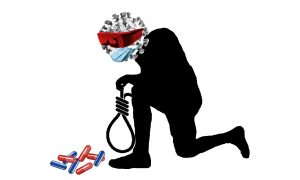 Today's experts seem to never get anything right.
It's as though we've raised generations of weathermen and women, and spread them throughout the country into universities, the media, and of course politics.
For example a recent "expert" just explained that our markets are a raging mania and we could see five to ten percent inflation.
He then stated "we could also see deflation."
I love it when experts go out on a limb.
He reminded me of another expert who told us all to "wear the masks" one day, and then "not to" the next, proceeded by "well okay wear the masks" as he engaged in leisure while of course not wearing a mask.
If that wasn't enough this same expert, months later mind you, told everyone to start wear safety glasses as well.
After all that the CDC experts changed their findings and voila the RONA is less dangerous than taking your children to a Biden rally, a Catholic church, or Portland, Oregon.
Every day on television some new pill arrives to cure "diseases" such as type-two diabetes.
Just take this pill, and that pill, and this pill too, say the experts, and you can eat anything you want, as much as you want, or maybe, just maybe, eat less, exercise more, and presto chango, no more pills.
I know, I know, crazy talk.
Just put your gag, err, mask back on after you take your pills, and soon to be coming vaccines.
You'll be fine as you wait a decade for your television to provide you with a number to call for "compensation."
The experts told us that people taking a knee was to protest the police killing black men.
The foolish, stupid, and lazy jumped on board ignoring the factual data that black men kill more police, white men, black women and, wait for it, BLACK MEN, than the other way around.
Bubba Wallace turned a garage door pulley into a world-wide event and even had Richard The Dick Petty in his corner.
After all was said and done the pulley had been there for months, well before Dumb Bubba arrived.
Of course it didn't matter to the media experts, as they raged about a rope, tied in what they decided looked like a noose.
These are of course men and women who couldn't tie a knot to save their lives but are now all trained sailors.
This fit perfectly with CNN who spent a year doing aviation search and rescue for a number of planes.
Just like facts, the Clinton News Network never found any.
Recently Bubba declined to re-sign with The Dick's racing team.
I'm sure his zero wins will be missed.
I'm thinking about t-shirts.
The Noose is now Loose with a Blackwall hitch hat tip to Jussie Smollet and of course O. J. Simpson.
Not to be outdone Hollywood's experts attacked each other with a hashtag that stood for sexual abuse of women, homosexuals, and minors and at the same time jumped to the defense of Barack Obama and Joe Biden.
Both are supporters of Sharia (women are the property of men) and Biden is on tape groping other peoples children.
Making sure they weren't left out the Liberals who run Netflix released a show that reportedly sexualizes kids.
Maybe the hashtag was completely misunderstood.
Maybe as each rapist/molester was being outed, Hollywood was showing support by saying yep Me Too, as in WE DID IT TOO.
We have the financial experts attempting to explain that Social Security is in great shape and will last for years but then answering "well that's a problem" when someone points out the Federal Government is 25 trillion in debt. . .and counting.
I even saw an expert say the more America "borrows" the cheaper the debt will become.
These have to be the same pillocks who are doing all the polling.
Finally we have the political experts who told us Hillary was favored to win at a ninety-three percent clip.
When the illegals, idiots, and in the ground votes were tallied the Betrayer of Benghazi was found to be woefully short of success and head first in the bottle.
After the experts finished their cry and call for the stock markets to crash, they went back to work with their treasonous behavior that ended in an attempted coup.
The response from the Department of Justice experts?
Yes, some of their behavior was bad.
Yes, servers were smashed and Mueller phones were "wiped" but not, wink wink, to the level of prosecution.
It's a good thing we have so many experts.
One could only imagine the carnage if any of these people were to actually get something right.
Maybe the best way to deal with government is to send the dregs, the degenerates, the dipsticks and dullards to Washington, guaranteeing nothing ever gets done.
Then again as one moron said a long time ago,
Mission Accomplished.
Jason Kraus
www.aleadernotapolitician.com
www.freeamericanetwork.com