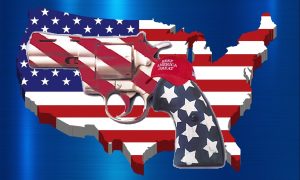 Recently I was asked how my life was going.
"It's going very well," I replied.
It is.
Life is what you make it and although that might seem a bit cliche it is very true.
I awaken every morning ready to enjoy and embrace another twenty-four hours of the greatest country in the history of Man.
Some will say these are trying times.
Listening to Fredo and Fredo's short bus brother trying to threaten the President of the United States can have that effect.
By the way Short Bus Andy, President Trump does have an "army" and all he has to do is call on it and you'll be a Fredo foot note six feet in the ground.
Leave the gun, take the cannoli.
Of course the definition of "trying" depends on your age, perspective, and what exactly you are trying to do.
I was born in 1970 and the Seventies were an interesting time to be an adult, let alone a child.
Odds and evens at gas stations, cars and buildings that exploded from mafia related bombs (and some of Obama's friends in the Weather Underground crowd) and Jimmy Carter's New Normal speech that Barack copied decades later to explain that because their lives were miserable, ours were going to be as well.
Let us not forget our American Heroes known as Vietnam Veterans ,who will tell you 2020 in America, is a beautiful stroll through the park, compared to the jungles in Vietnam or coming home to the spitting hippy vermin who hid in Canada like the Tories of old.
Again, age, perspective and what exactly you are trying to do.
Too many in these United States are not trying at all or their attempts are so piss poor we'd be better off if they Kevorkianed their way off the planet.
Harsh?
Not in the slightest.
We have humans running around America asking "How many more black men will have to be killed by the cops before it ends?"
This is a perfect example of a lazy question.
Is that code Jason?
No, it's ENGLISH.
First, we have to deal with facts.
Are black men being shot by cops more than the cops are being attacked by black men?
Absolutely not.
Second, we need more information to answer this concisely so I will ask how many more black men are out there who are rapists, child molesters, thieves, high twenty-four hours a day, pointing guns at pregnant women threatening to blow them away, with warrants AND continue to resist arrest or grab for weapons and point them at law enforcement.
You tell me that number and I'll tell you how many more.
But, but what about the white men who do these things?
They get shot and die every day.
You just don't hear about it because it doesn't fit the Liberal white man bad agenda.
One of the worst humans I've ever had contact with was a white guy and if Gavin Newsom has his way this guy will eventually be freed from California's death row, and I guarantee, will kill more children.
Liberals, what are they good for?
Absolutely nothing.
Another Liberal in Georgia decided that the only way black people will ever be safe was to buy acreage out in the country where other blacks could congregate freely without the oppression of the white man.
Blacks Only was her message and the picture presented in the story was a partially constructed tent where they were going to have weddings and parties and all dance with the fairies in Never Never Land.
She complained about "400 years" of slavery and Jim Crow but then decided to set herself and her "people" up away from the white devil.
Someone needs to tell her that white people move out to the country to get away from ALL other people, not build a bear tent parties with twenty-three pairs of Air Jordans.
We have a word for what she claiming is her mission.
It is called Segregation but have at it lady.
Just remember to dig your latrine away from where you'll be serving all your black bigoted friends.
Latrine?
What choo  talkin bout Willis?
Never mind.
Enjoy your bout of dysentery and no your RONA masks won't save you nor will voting for Joe Biden but you ain't black or free thinkers if you do. . .or don't. . .or do.
Who knows anymore.
I do have one question though.
You see this brain surgeon also stated she wanted her white free land to be self-sufficient.
I doubt she has any idea what that actually means and from the size of her, well, color me incredulous if she's been living on venison (that's deer meat to all you cities dwellers) or has any idea how to bark a squirrel.
Can't you see her now.
Ruff ruff little squirrel!
Come on down now!
Momma's hungry!
Putting aside nutritional aspects the pale free black folk running through the fields will need wells dug (water) and more than likely a few septic tanks put in, never mind the actual building of structures, electrical, gas lines, propane tanks, sewage lines, etc.
What's she going to do when she calls for these things and white and brown men arrive to do the job?
Who does she think raises, decapitates, and boils all those chickens found at Popeyes and why is it okay for Popeye to sell chicken but Aunt Jemima and Uncle Ben are both getting laid off?
There's that white privilege again, stealing jobs from the black folk.
I mean come on man, I've had Uncle Ben's rice.
It's good stuff.
Aunt Jemima's is mostly high fructose corn syrup but what isn't these days?
You can't punish Auntie J for the corporate world creating puke for profit.
Give that hard working woman a break!
At least she didn't own slaves like Kamala Mamala Harris.
As if that wasn't enough the Georgia trail blazing half tent ebony disaster wants this acreage to resemble Wakanda.
Should we first tell her that she may deal with brown bears, coyotes, and mountain lions or should we burst her bubble with the fact that she won't see any black panthers or that Wakanda only exists in her troubled bigoted mind.
This is the kind of woman who would hate white goats that eat all the debris and dead weeds, protecting her property from fire, and then embrace black bears who rip her tents, trash cans, and anything else they find to pieces.
Interestingly enough she may have finally stumbled into something she has been begging for.
I've lived in the mountains a good portion of my life.
Out here law enforcement doesn't really exist.
There's simply too much area to cover.
The sheriffs know it and We the People know this as well.
She won't have to worry about the bad bad policeman shooting all of her poor downtrodden brothers.
Think of the mountains like Vegas without the gambling, hookers, and trash.
What happens in the mountains stays in the mountains.
45's and backhoes.
All well used.
We also have a saying.
You pack it in, you pack it out, and always remember out here everyone's packing.
In the mountains one hundred yards has nothing to do with football but make no mistake targets are easily acquired.
Yeehaw and welcome to the country!
Y'all will fit in right nice.
Start bringing out those broken down Caddys and thousand dollar rims.
They'll rust right up just dandy next to all those Fords, Chevys, and prayers.
Oh yes!
Don't forget your prayers.
I'll get you started with my Grandpappy's favorite.
Pick up a tater and skin it. Praise the Lord in a minute. One word's good as ten. Amen.
Oh, and one more thing.
Bless your heart.
Jason Kraus
www.aleadernotapolitician.com
www.freeamericanetwork.com