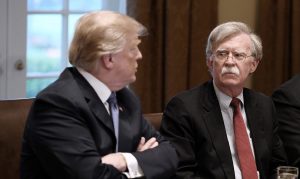 by Daveda Gruber:
How many of you watch FOX News? Will you tune in on Tuesday, June 23rd, at 6:00 p.m. Eastern Standard time? Chief political anchor Bret Baier is set to interview former National Security Adviser John Bolton.
The FOX News show, "Special Report" may have a lot of viewers because people are curious enough to tune in.
The interview falls on the day that Bolton's book/memoir, "The Room Where It Happened," should be hitting book stores.
The book is expected to be quite controversial. Most of us have heard that Bolton's book contain a passage that says that President Trump once said that reporters "should be executed."
Other controversial things include that Trump requested that his White House counsel contact the Justice Department to discuss whether jailing journalists would be possible.
An emergency injunction is being sought at this moment to prevent the release/publication of the book in question because the manuscript contains confidential information.
Claims have been made that Bolton had deliberately bypassed the necessary classification review process.
Trump tweeted out his thoughts on the matter:
When Wacko John Bolton went on Deface the Nation and so stupidly said that he looked at the "Libyan Model" for North Korea, all hell broke out. Kim Jong Un, who we were getting along with very well, went "ballistic", just like his missiles – and rightfully so….

— Donald J. Trump (@realDonaldTrump) June 18, 2020
….He didn't want Bolton anywhere near him. Bolton's dumbest of all statements set us back very badly with North Korea, even now. I asked him, "what the hell were you thinking?" He had no answer and just apologized. That was early on, I should have fired him right then & there!

— Donald J. Trump (@realDonaldTrump) June 18, 2020
Bolton's book, which is getting terrible reviews, is a compilation of lies and made up stories, all intended to make me look bad. Many of the ridiculous statements he attributes to me were never made, pure fiction. Just trying to get even for firing him like the sick puppy he is!

— Donald J. Trump (@realDonaldTrump) June 18, 2020
Trump also re-tweeted Daniel (Dan) Scavino, who is an American political advisor, currently serving as the White House Deputy Chief of Staff for Communications and Director of Social Media, who tweeted this:
There is nothing worse than a disgruntled, arrogant, egotistical, and all around miserable warmonger who gets fired from their job, and goes to write a book with classified information — while being paid millions of dollars for it. Someone changed their tune, once he was FIRED! pic.twitter.com/IwWyueQGQt

— Dan Scavino (@DanScavino) June 18, 2020
FOX may have high rating for the upcoming segment, but then their ratings are already higher than other cable networks.