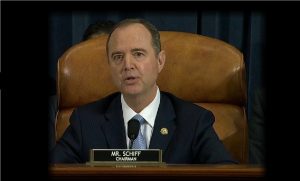 by Daveda Gruber:
It's interesting that I thought that the Democrats were allegedly trying to impeach the president of the United States because of a quid pro quo.
That really isn't all truth. Democrats were allegedly trying to build a case on an inquiry into possible impeachment in regard to a quid pro quo.
Unfortunately, that is no longer true. The Democrats have changed the language on us.
Now it appears that the Democrats are inquiring about alleged bribery.
Democratic Congressional Campaign Committee recently conducted focus groups to determine which description sounds more damning to voters.
In the focus groups that were conducted in key House battlegrounds were asked about word usage. It was discussed and it appears that "bribery" is in first place as seemingly the most damming word to the public.
After the open testimony was over today with witness Former U.S. ambassador to Ukraine Marie Yovanovitch, Adam "Shifty Schiff" added a new word as he spoke to press outside the chamber and talked about "witness intimidation" and "abuse of power."
I guess those words, in the mind of Schiff, sound damming to average voters.
President Trump will not be impeached. You can take that to the bank.
The best outcome that Democrats are hoping for is making Trump unelectable in 2020. If they can accomplish this, they have won.