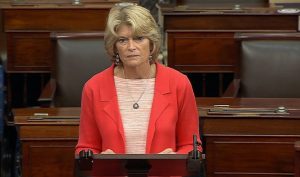 by Daveda Gruber
It appears that on Monday Amy Coney Barrett will have an unlikely ally who will be voting to confirm her position on the Supreme Court of the United States.
On Saturday, Senator Lisa Murkowski, the Republican from Alaska was on the floor in the Senate giving a speech when she revealed that she will support Barrett's confirmation on Monday.
On one hand, Murkowski said that she's still opposed to the Senate taking up a Supreme Court nominee so close to the November 3rd election.
She knows that she has already lost the procedural fight and she must evaluate Barrett's qualifications to the bench.
Murkowski said, "I will be a yes. I have no doubt about her intellect. I have no doubt about Judge Barrett's judicial temperament. I have no doubt about her capability to do the job  ̶  and to do it well."
The only GOP senator to oppose Justice Brett Kavanaugh in 2018 was Murkowski.
She said that she'd still vote "no" on the procedural motion on Sunday to advance Barrett's nomination.
In essence, Murkowski said that she still opposes the process, but won't "hold it against" Barrett and therefore will vote "yes" on the merits of her nomination.
Murkowski said, "I have concluded that she is the sort of person we want on the Supreme Court."
She basically praised Barrett's temperament, legal writing and patience.
Republicans hold 53 seats, which is the majority in the Senate but two of them, Murkowski and Susan Collins, who is from Maine, have openly opposed moving on Barrett's nomination before the election.
It looks like President Trump will have third nominee on the high court.
Democrats were opposed to Barrett's confirmation so close to the election. They boycotted the Judiciary Committee vote on Thursday.
On Saturday, which is a rare day for anything in D.C., Senator Chuck Schumer, D-N.Y., staged a four delay tactic on Friday on the Senate floor. He even forced a brief closed door session. He tried to pause the confirmation proceedings by bringing up coronavirus relief legislation.
That effort was shut down by the GOP.
Saturday, Senator Kelly Loeffler, R-Ga., said that two of her staffers had tested positive for coronavirus. Loeffler revealed that she had tested negative. That would mean that she will be present to vote for Barrett.
Loeffler's office said in a statement, "Senator Loeffler is more energized than ever to vote to confirm Amy Coney Barrett as the next Supreme Court Justice on Monday before returning home and traveling the state to meet with hardworking Georgians."
Most people across America would love to have another Supreme Court Justice that has conservative values.
I cannot wait to hear that the confirmation is done, finished and Barrett sitting on the high court.
God Bless America
TRUMP 2020