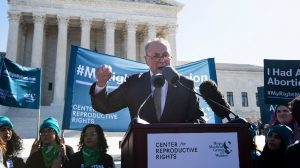 by Daveda Gruber:
On Wednesday Senator Minority Leader Chuck Schumer, D-N.Y., went on a rant at a pro-abortion rally that was hosted by the Center for Reproductive Rights and in effect seemed to be threatening two Supreme Court Justices.
Schumer was all hyped up as the Supreme Court heard arguments in a high-profile abortion case and stood at a podium yelling a warning to Supreme Court Justices Neil Gorsuch and Brett Kavanaugh.
The Minority Leader cited the case of June Medical Services LLC v. Russo, and said that this is the first "major" abortion case since President Trump's court picks have been on the bench.
The clash in the case deals with restrictions over who can perform abortions. It involves  Louisiana law similar to one in Texas that the court ruled unconstitutional in 2016.
This came about before either of President Trump's justice picks was sitting on the bench.
This case that is before the court is part of a larger effort by pro life efforts by red states to pass laws regulating abortion. This would test how supportive the new justices will be of precedents already set, for instance, Roe v. Wade and Planned Parenthood v. Casey, which formed the basis for abortion being legal.
The law that is in question requires abortion doctors in Louisiana to have admitting privileges at a nearby hospital for reasons that protect the woman in case a woman experiences complications during or after an abortion.  Restrictions on abortions because of facilities available close to a hospital would significantly reduce the number of available convenient  facilities the state.
Those who back the law dispute that it regulates abortion providers in the same manner that other medical providers are regulated by the state. It also makes certain that doctors are competent. Those who are opposed to the law say that it targets abortion providers with the ultimate goal of shutting them down.
In a 2016 case that was out of Texas the Supreme Court invalidated a very similar law.
Wednesday's oral arguments revealed that Kavanaugh and Chief Justice John Roberts questioned whether Lousiana might be different from Texas in terms of the practical effect the law would have.
Kavanaugh asked "Assume all the doctors who currently perform abortions can obtain admitting privileges, could you say that the law still imposes an undue burden, even if there were no effect?"
Today Schumer shouted, "I want to tell you, Gorsuch. I want to tell you, Kavanaugh. You have released the whirlwind and you will pay the price! You won't know what hit you if you go forward with these awful decisions."
You can imagine that the video of Schumer went viral on social media.
You can see the video here:
In the heat of the moment, Schumer had accused Republican legislatures of "waging a war on women," and he said reproductive rights are "under attack in a way we haven't seen in modern history."
Schumer went on to say, "We will tell President Trump and Senate Republicans who have stacked the court with right-wing ideologues that you're gonna be gone in November, and you will never be able to do what you're trying to do now ever, ever again!"
At this time, conservatives hold a 5 to 4 majority. That, in itself, could tilt the scales against the abortion centers and with good cause.
Any ruling against abortion clinics, whether it be for medical assistance to women or for assisting a baby who survives the abortion, would be a win in my opinion. Somehow, I don't think that pro-abortion activists care about the baby, if he or she survives, is an issue.
There are too many people who seem to think that abortion is a way of avoiding a pregnancy. All women who do not want children have other options. There are many forms of contraceptives that are easily available. Abstaining is also an alternative.
Too many women and men too, for that matter, who don't understand that abortion is murdering a living baby. Yes, the baby is alive in the womb with a beating heart and killing him or her is MURDER!