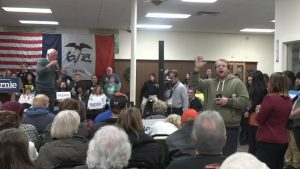 by Daveda Gruber:
On Saturday, 2020 presidential candidate Bernie Sanders I-Vt., was speaking at an Iowa campaign event when a he was confronted with a Trump supporter.
Sanders was speaking when a man stood up and began to deliver a message to President Trump.
Sanders seemed to know that something was up as the young man approached the microphone with his phone.
Before the man uttered a word, Sanders said, "Oh, he's looking at his phone. I'm in trouble."
When the man was given the opportunity to speak into the microphone, he delivered a message directly to President Trump.
The unidentified man said, "Mr. Trump, keep going man. You're doing a good job. You know what, I'm a liberal."
Well, not everyone was like minded and boos came from the crowd. That silenced the young man briefly but Sanders urged the crowd to let the man speak.
The man explained that he had voted for Sanders during the 2016 Democratic primary but is now fully behind Trump.
The man spoke into the microphone and said, "I don't agree with anything you say. I used to. I voted for you in 2016. And I've been to Vietnam and seen what socialism has done. It's destroyed the lives [of many]."
People in the crowd laughed but then the man spoke about how Socialism doesn't work.
Wearing an army green hoodie the man shouted,  "You can laugh all you want. Donald Trump is helping our country. All right? He's a good man. Socialism does not work."
Sanders and the man continued to shout at each other but the man was escorted out of the room.
Here is a video that shows what happened: