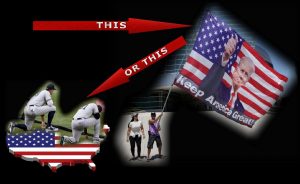 Another week, another seven days of Bigots, Lies, and Morons.
I'd like to move on from this but the media and its minions continue to bury the airwaves with this tripe in their attempt to remind us life is really just high school.
You see high school was easy to understand.
Regardless of where you attended there were bullies, those who would fight the bullies, and then there was the rest of the school, who took the bullying while hoping one of those who would fight, would step in.
Right now the bullies are running rampant all over Liberal cities because there is no one to stop them.
Those of us who stopped the beatings in high school don't live in Seattle, Portland, or Minneapolis.
We live in the "rural" parts of the country (by design) where signage like "No Trespassing. Owner has a 45 and a backhoe and knows how to use both" exist and currently we are not rushing into the "diverse" cesspools to protect anyone.
Why?
Because YOU who live in these cities keep voting for this behavior.
For example, the two idiot lawyers in Missouri, who proclaimed to support BLM, but then started to wave guns around when the Bigots, Liars, and Morons arrived on their street.
You can't have it both ways.
You can't proclaim to support lawlessness and then complain when it lands in your face.
Classic Liberalism.
Not in my backyard or in my gated community.
Isn't that right Gavin Newsom.
Anti-American Universities were not to be left behind.
Rutgers University reportedly stated that they will "deemphasize the usage of traditional grammar in an attempt to stand with Black Lives Matter."
Basically they are telling Black students that they are too stupid to pass their current classes without the help of Liberals.
One cannot deemphasize grammar.
Either it is used correctly or it be aint.
You feel me dog.
Oh yes little Farrakhan disciples, we feel you.
It reminds me of Nancy Pelosi telling people to relax by taking up a hobby or getting a massage rather than a job or in other relaxed English "It be da bitch sayin her peeps needs to chill, smoke sum root, get me a rub down wit a happy ending ya boyyyyyyyy!
Rutgers University is proud to present!
Flava Flav 101: How 2 thriv on da Dem Planetation.
Sealabus.
(1) How much smoke does you choke?
(2) Juray: Why Gold be dope.
(3) Aks me no questions I's tells you no lies.
(4) Why be da mutherfu$%ing planet be flat.
Let's label it Electives found in Common Core.
I'm not sure how much more America can bend in this genre.
Affirmative Action, forced housing loans, generations of food stamp usage, the embracing of Sharia, the elections and support for the Clintons, Obama and now Biden.
Are "Blacks" simply too different to function in a society that requires math, the correct usage of English, and the Rule of Law?
That's what the "media" continues to tell the world.
Is this true?
Let's take a look at the data that is being reported.
In cities like Baltimore, Detroit, and Chicago the chance of being murdered by a Black male far exceeds the chance of being murdered by any other color or gender.
In fact if the world of "Science" were to ever be put to work the data would clearly state the removal of Black males, specifically the age range from 14-30, from these areas, would drop the murder rate so dramatically it would be unconscionable for it to be ignored.
It would also preserve the lives of, wait for it, Black males under the age of 14 and over 30 but apparently they don't matter.
Heaven forbid the children are protected.
Between the thugs and the Catholic Priest child molesters it is a wonder any child makes it out of the "city".
Yes, we have statistics on that too.
Of course with Common Core Math and the now relaxing of grammar the chance for Science/Statistical Probabilities having any chance in these areas is < than 0.
The group, known on Yahoo's Comment sections, until Yahoo stopped allowing people to comment, as 13/90, has been given every opportunity to find success but according to today's media is the only group that has been burdened by generational economic strife, debt, endless wars, drugs, fatherless households and "welfare queens" for mothers.
Again is this true?
Absolutely not.
The United States of America makes up less than five percent of the world's human population.
In that five percent the "Black" human makes up only thirteen percent.
Roughly forty-million in a world that we believe has around seven BILLION total people, yet there are more Black millionaires and billionaires in America than anywhere else.
Black humans all over the world struggle to exist, to even eat at times.
Ethiopia, Nigeria, Liberia, and Haiti just to name a few are filled with nothing but Black humans and these places are abhorrent.
Blacks in America lead the statistical Black world numbers in degrees, businesses, and wealth.
They also lead the Black world in obesity, type-two diabetes, and debt.
These are facts and the one guarantee with these facts is these numbers will eventually change.
By continuing to lower standards for one particular group we know the slide towards those standards will continue.
Very few humans will consistently reach outside their comfort zones.
This is why America has been so special and successful.
Enough Individuals wanted a better life and were willing to put theirs at risk to achieve the goal of Freedom.
We now have athletes who sign contracts for tens if not hundreds of millions of dollars putting their knees on the neck of these United States.
The country who made them rich, great, and most importantly FREE.
The Great Experiment, as America was named, is something to behold yet if She is not protected the concept of Freedom For All will be replaced.
They say hell hath no fury like a woman scorned.
Make no mistake in understanding my next words.
The rage that is now boiling in the stomachs of AMERICANS will far surpass hell for those who have driven us to this doorstep.
We dropped atomic bombs on Japan, and were ready to send as many more as needed, and they were across an ocean.
You Liberals are right here within our grasp and soon to be in our sights.
Right now only one side is fighting.
When we engage, we aren't coming to argue, attest, or arrest nor will there be a Christian burial for you as you apparently hate Christ in all facets. . .except for the putrid Sharia/Socialism loving Pope.
You will learn quickly what standing in the pocket hitting targets really means.
When we come for you traitors and enemies of America we will put you down, permanently, and you will stay as you lay.
As I've said before crows gotta eat too.
Eat they will.
Jason Kraus
www.aleadernotapolitician.com
www.freeamericanetwork.com