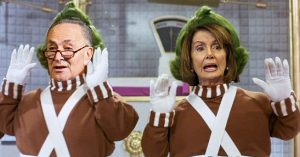 "It was a beautiful day, the sun beat down, I had the radio on, I was driving."
I knew exactly what Tom Petty was saying and had felt that way many times over the years in my vehicle.
This week I should have stayed in my truck.
Although the weather was gorgeous in NORTHERN California, the human condition was anything but.
Mostly, due to their own behavior, also known as stupidity, a few due to the behavior of someone else, also known as criminality and the rest due to a lack of any behavior also known as apathy.
Where's Al Gore when you need him?
Let the climate change begin!
According to the Democratic Party's new "genius" Alexandria I'm way in over my head Cortez, the world has twelve years before it ends.
Damn this girl is good!
She just solved the National Debt, our Medicare Debacle and the Ponzi Scheme known as Social Security all in one sentence.
The "bartender" has spoken. 
With that now infamous feces eating grin she took YOLO (You Only Live Once) to brand new heights!
Socialism for all!
Get in where you fit in!
The ultimate Hope and Change!
Hang in there Type 2 diabetes lovers! You can handle Mickey D's and Starbucks for twelve more years!
Yes you can!
YES YOU CAN!
Just increase your medication(s). Don't worry about your liver or kidneys.
According to AOClueless you won't need them in a little over a decade because it will be the Earth that kills you not high fructose corn syrup and trans fats.
I blame this all on Gene Wilder.
He never should have let the Oompa-Loompas out.
Now they are running wild, begging illegals for votes, blaming children on school tours for being attacked by bigoted adults, releasing child molesters daily into our communities because of prison "over-crowding" and trying to one up each other as to how long a woman has to decide whether or not she wants to keep her "unborn child".
Supposedly one of the differences between Humans and the other animals is the capacity to know the difference between Right and Wrong.
What is amazing here is that the Liberal-Progressive-Socialist-Traitors actually do know the difference.
They just don't care.
It makes no difference to them how many babies are cut into parts and sold.
It makes no difference to them how many in Law Enforcement die.
It makes no difference to them how many children are drugged, sodomized and sold through our open border.
To them all of these things are collateral damage.
Part of a "war" they are fighting to instill and install Oppression.
Wars are pretty easy to win when only one side fights.
Then again that's not called a war.
That's called France.
Nous ne sommes pas français!
"The credit goes to the man in the arena, whose face is marred by dust and sweat and blood."
For those who do not recognize the aforementioned words they are part of a quote created by one Theodore Roosevelt and are found in a speech titled Citizenship in a Republic.
No Democracy in sight.
With only twelve years left, the leap into the arena is already past due.
Let the "credit" seeking begin.
Jason Kraus
www.aleadernotapolitician.com
www.freeamericanetwork.com