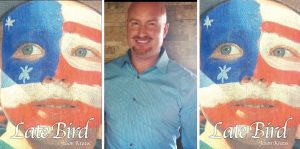 by: Daveda Gruber
When you read a book, do you learn anything? That would depend on what book you read. My interests are varied and I have read many books in my life. I do not always write a review but this book opened up a story that I felt I had to read and then write about because it is so well written and applies to so many walks of life.
It tells a most amazing story. Falcon Sane, who is the main character in the story, grows up in an America which "Jack and Dianne" by John "Cougar" Mellencamp, becomes a reality.
What reality defines greatness? I've come to realize that when you have made a judgment on another, keep it open. You never know what will be revealed before it is closed.
Can a man actually forgive another man and can that make him great?
Read on. What is family and how can it be defined? What do ice cream and fascists and Winnie the Pooh have in common? Can sitting on a stump make you a better man? Maybe, but you'd have to read the book to find out.
The main character, Falcon, has a big heart and along with his caring personality, there underlies a man with a determined mindset who wants to make the future better for himself and more importantly, for all Americans.
The first half of the book is mostly about Falcon's early childhood. The reader begins to find themselves immersed into a story that has the human element to draw the reader in. You get to know a boy who will, as you turn the pages, grow into a special kind of man. His love for sports and a yearning to learn by his own experiences will capture your interest and make you want to learn more about him.
The concept of caring about family is instilled in Falcon from an early age. Falcon confronts the presence of evil in a very unique manner. He's a very patient and logical man but those traits were instilled in him at a young age and you actually feel a part of his growth as you get more involved in his story.
Being a leader is in Falcon's blood. He was never one to follow others but rather he was always at the helm and holding the reigns.
Democracy is well defined by Falcon as he most wittingly explains what our country is; a Republic. He holds his loved ones, his country and his friends close to him. He's a romantic who is looking for the love of his life. Will he find lasting love? You'll have to read the book to find out because I don't want to spoil the story.
As Falcon worked as a deputy in a large penitentiary, he had to deal with the criminal element of society. I learned by reading this novel that there are some people that you just don't mess with and Falcon Sane is a man like that. But he is also a man who hears the cries of the people who are the lowest on the totem pole.
While he was still a young man, working as a Deputy, Falcon found out even an election for Sheriff can prove to be distasteful because of the way a decent man can be smeared by opponents of his views or interests.
Do young males and prisoners wear their pants hanging to project an image? Yes, according to the book. Prisoners wear their pants hanging to say that they are available to other male inmates. Yes, I said that and so does the book. The author knows what he is talking about. I didn't but I sure found out by reading this book.
What party is to blame for the United States being the way it is? Well, according to this book, both. You'll have to read it to find out how Falcon actually sees it.
Falcon Sane is concerned about the second amendment. Is it the potential protector of freedom or would it become the thing to take freedom away? It's both and it will be explained.
The author gives a realization on sane verses insanity. Yes, Falcon Sane has some answers for us.
Have you ever been fired from a job that you know you did well at? Falcon endured problematic situations through his growth as a man, but somehow managed to learn from experience without the system corrupting him.
As the pages turn, the reader gets clues as to what Falcon's life has prepared him for. There is a sense that this man was to become someone who is not easy to forget. He leaves a lasting impression on everyone he meets. And yes, he has a lot to offer to anyone who will listen.
As I got further involved in the story, I found that I had some conflicting ideas with the writer. As this story makes one feel that it is actually a memoire in the first half of the book, it actually takes on a different aspect in part two.
Falcon is on a quest for love and yes, he does find it and you can feel the romance taking shape in his descriptions of the woman he adores. He also has a love for animals and that comes through in the word usage.
Falcon decides to run for the highest office in the land. It is my opinion that he's a different sort of candidate with a lot of new ideas.
In the book, Falcon runs as an Independent candidate who wants to change the rules of the long-standing election game. He wants to serve for one term and not two. He doesn't like commercials or fundraising nor does he want more than one debate.
Falcon, if elected, wanted to get rid of the death tax. He also has a plan that he calls the United State Personal Responsibility Act of 2017. The plan would cut taxes and use a consumption tax. It's all spelled out in the book with numbers from one to ten with sub-letters that take the plan into depth and represent a new complete overhaul of the tax system and how it is applied.
On page 462, we find that names from the movie "The Godfather" have been used to describe a person. No, it wasn't Fredo this time.
By reading in between the lines, the Democratic candidate in the book seems to be someone like Hillary Clinton although the name is not even close. It appears that the Republican nominee was not spoken of, as much, and I don't see it as being interpreted to be now President Donald Trump.
If you enjoy a really good story, you'll love this book. It will make you pay attention to the country we live in and if you like politics, you'll find it within the pages of this most amazing book. The novel will keep your interest and hold your attention.
There are places in the story that could make you cry. I know, I did but not with sadness. Tears may flow with emotion that is very defining. Yes, the book could make you cry in the same way that a movie would if it was presented in the right formation.
Maybe this book should be a movie. I'd go see it. But the book is always better than the movie? I don't know in this case because there is no movie, yet.
If you choose to read this book, hold on, you're about to take an awesome journey into a man's life.
You may also see that what you want in a leader is not always in front of your face but can have a different look.
If Jason Kraus, the writer, is anything like the main character in this book, Falcon Sane, he's someone who could be a great asset to our way of life or in a government role. I'm thinking the Senate.
Please read this book. You won't be disappointed, that I can guarantee. If you learn from the book, thank the author. If you didn't know about the author or the book, but are interested, I can give insight as to whether or not to read it. If you stumbled on my review, it was for a reason. Read this most incredible book.