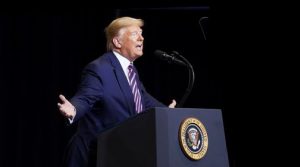 by Daveda Gruber:
President Trump has been watching the Democrat 2020 candidates battle each other and a couple of things that have happened over this past week must have sparked his interest and even put a smile on his face.
Senator Bernie Sanders I-Vt., had a big win in Nevada and the close call in Iowa, where he came in second place, or maybe first place, because no one seems to want to disclose what really happened in Iowa, has the Democratic establishment in a frenzy.
What happens in Iowa, stays in Iowa? I thought that was Las Vegas, Nevada. I'd have to guess all these caucuses are starting to get confusing.
Sanders has his party claiming that he has some involvement with Russia and that President Vladimir Putin  would like to see Sanders win the nomination and the 2020 general election.
Sanders has denied any affiliation with Russians and in fact, made a comment of denial.
Sanders said, "I don't care, frankly, who [Russian President Vladimir] Putin wants to be president. My message to Putin is clear: stay out of American elections, and as president I will make sure that you do."
Personally, I don't see Sanders getting the chance to be president so Putin must be having a good laugh about this.
Trump decided to give the opposing party some advice. After all, they seemed like they needed it.
It is quite obvious that President Trump has a pretty good sense of humor. His supporters enjoy his perky personality.
Trump tweeted this:
Are any Democrat operatives, the DNC, or Crooked Hillary Clinton, blaming Russia, Russia, Russia for the Bernie Sanders win in Nevada. If so I suggest calling Bob Mueller & the 13 Angry Democrats to do a new Mueller Report, Democrat Edition. Bob will get to the bottom of it!

— Donald J. Trump (@realDonaldTrump) February 23, 2020
It appears that lawmakers on Capitol Hill and some people who are familiar with the subject have knowledge of alleged Russian attempts at influencing the 2020 election.
It has been alleged that during a House intelligence briefing, lawmakers learned that Russia wanted Trump to win.
Marc Short, chief of staff for Vice President Pence, sharply denied that intelligence pointed to Russia wanting Trump to win.
Reports are alleging that Representative Adam Schiff D-Calif., leaked this information.
Short said that news of Russian interference or preferences is the result of "selective" leaking from the House Intelligence Committee led by Schiff.
This information must have sparked something with Trump because he too accused Schiff of spreading disinformation.
Trump tweeted:
Somebody please tell incompetent (thanks for my high poll numbers) & corrupt politician Adam "Shifty" Schiff to stop leaking Classified information or, even worse, made up information, to the Fake News Media. Someday he will be caught, & that will be a very unpleasant experience!

— Donald J. Trump (@realDonaldTrump) February 23, 2020
I don't know about you but I find this to be comical and to me there's nothing that strikes my funny bone more than a tweet from Trump when he's in a humorous mood.