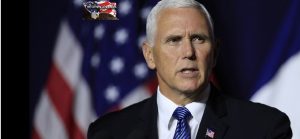 by Daveda Gruber:
On Tuesday, Air Force 2 made an abrupt turn and flew back to Washington D.C. with Vice President Mike Pence cancelling his attendance at an event in New Hampshire.
Pence had been scheduled to speak on the opioid crisis and illegal drugs at an event in Salem, New Hampshire. It was planned that he participate in a roundtable discussion with former patients and alumni at the Granite Recovery Center headquarters and deliver remarks and then return to Washington in the evening.
Just before Pence was scheduled to arrive, the event was cancelled and his plane was diverted back to Washington for an undisclosed emergency.
Randy Gentry, a representative of Pence's office, told the crowd in Salem that the event was being cancelled.
Gentry said, "We do have a situation where the vice president was called back to Washington."
Press Secretary for the vice president, Alyssa Farah, tweeted this:
Trump tweeted this out:
Leaving South Korea after a wonderful meeting with Chairman Kim Jong Un. Stood on the soil of North Korea, an important statement for all, and a great honor!

— Donald J. Trump (@realDonaldTrump) June 30, 2019
Trump re-tweeted:
오울렛 초소에서 브리핑을 받고 북측을 바라보며 대화하는 한.미 정상의 모습. 오울렛 초소는 한국전쟁 참전용사인 조셉 오울렛의 희생정신을 기리며 이름붙여진 곳으로 군사분계선에서 불과 25m밖에 떨어지지 않은 최전방 초소입니다. pic.twitter.com/xaGkJVBntf

— 대한민국 청와대 (@TheBlueHouseKR) June 30, 2019