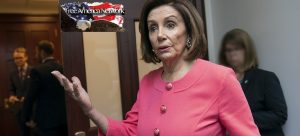 by Daveda Gruber:
On Tuesday Speaker of the House Nancy Pelosi was not backing claims on impeachment but rather implying that her caucus has more support for not pushing for it than it has members who do want to roll with it.
Pelosi was speaking at the Fiscal Summit in Washington hosted by the Peter G. Peterson Foundation when she made the comment, "It's not even close in our caucus."
Pelosi's comment was in response to a question directed at her about if she would move on impeachment if a majority of her caucus supported it. She also added, "Why are we speculating on hypothetical's?"
Madame Speaker, despite calls from her fellow Democrats, has so far resisted impeachment proceedings. The progressive wing of her party is not on the same track as their leader.
Pelosi is trying to cover all corners and would not rule out impeachment. She said, "It's not off the table. I don't think you should impeach for political reasons and I don't think you should not impeach for political reasons."
The Speaker then added, "It's not about politics. It's not about Democrats and Republicans. It's not about partisanship. It's about patriotism to our country."
When Special Counsel Robert Mueller gave his public statement, he did emphasize that his report did not exonerate the president of obstruction of justice accusations. Many Democrats took this to mean that it was a call to action by Congress.
Some of us did not seem to feel the same way. Even Pelosi is reluctant to fall behind the strategy her progressive members want to go for. She's did, however, she did say that she ultimately wants to see Trump "in prison."
As you can well imagine, President Trump did not take Pelosi's comments lightly.
The tweets from Trump were rather clear:
Nervous Nancy Pelosi is a disgrace to herself and her family for having made such a disgusting statement, especially since I was with foreign leaders overseas. There is no evidence for such a thing to have been said. Nervous Nancy & Dems are getting Zero work done in Congress….

— Donald J. Trump (@realDonaldTrump) June 7, 2019
…and have no intention of doing anything other than going on a fishing expedition to see if they can find anything on me – both illegal & unprecedented in U.S. history. There was no Collusion – Investigate the Investigators! Go to work on Drug Price Reductions & Infrastructure!

— Donald J. Trump (@realDonaldTrump) June 7, 2019
Pelosi also sad that she has had it with the president. She said, "I'm done with him."
Pelosi mocked Trump on his tariff fight with Mexico. She also called him the "diverter of attention in chief."
Pelosi declared that Trump doesn't deserve attention for backing off his threat to impose escalating tariffs on Mexico. She also cast doubt on the idea that Trump struck a substantive deal that will benefit the United States.
Pelosi was in full force and mocked Trump's tariff threats. She said, "They were designed to take your attention away from the Mueller report."
On Tuesday the Democrats are pushing a resolution through the House that would make it easier to sue the Trump administration. They would also make it easier to sue potential witnesses. This would pave the way for legal action against those who defy subpoenas in Congress' Russia probe and other investigations.
The Democratic members of the House, through their resolution, would authorize lawsuits against Attorney General William Barr and former White House counsel Don McGahn for defying subpoenas pertaining to special counsel Robert Mueller's report.
Not that committee chairmen don't have enough authority, but the resolution would empower committee chairmen to take legal action to enforce subpoenas without a vote of the full House, as long as they have approval from a bipartisan group of House leaders.
What is the next move by the Democrats after they approve the resolution? It may be dealt with depending on what kind of a mood Pelosi is in.
On Monday House Judiciary Committee Chairman Jerrold Nadler stated that they will hold off on suing Barr. The panel struck a deal with the Justice Department to receive some important documents from Mueller's report and Nadler pushed the pause button.
All members of the committee will be able to view the material.