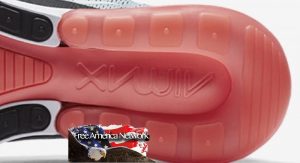 by: Daveda Gruber:
Have you looked at your newest pair of Nike running shoes? Chances are you didn't look at the soles of the shoes very carefully. One woman has carefully inspected them.
Saiqa Noreen has looked at the shoe and is now petitioning for the logo on the Air Max 270 shoe be removed. Many have joined her in her in calling for the recall of the shoe.
Noreen has started a Change.org petition and is calling the logo  "blasphemous" and is offensive and disrespectful to Muslims.
Noreen wrote, "It is outrageous and appalling of Nike to allow the name of God on a shoe. This is disrespectful and extremely offensive to Muslim's and insulting to Islam."
She also said, the logo "will surely be trampled, kicked and become soiled with mud or even filth."
The petition demands that Nike recall the "blasphemous and offensive shoe and all products with the design logo resembling the word Allah from worldwide sales immediately."
Nike has put out a an official statement regarding its most recent Air Max 270 controversy.
"Nike respects all religions and we take concerns of this nature seriously, The AIR MAX logo was designed to be a stylized representation of Nike's AIR MAX trademark. It is intended to reflect the AIR MAX brand only. Any other perceived meaning or representation is unintentional."
This is not the first time that Nike has been under fire for its logo. In 1997, the company came under scrutiny for using a flame-shaped logo that also resembled the word for Allah. Nike pulled 38,000 pairs of sneakers off the shelf worldwide and donated $50,000 to an Islamic elementary school in the United States.
Yes, there are Islamic Schools in America. Are you shocked? I'm not.
At this time, the petition has 6,713 signatures and counting.
There is no word if Nike plans to tweak any of its current designs due to the outrage.
Despite the various controversies that have arose over the years, Nike has also shown its support of Muslim culture in the past as well. In 2017, it released the Nike Pro Hijab, which is an iteration of the traditional hijab head covering designed to be used by Muslim female athletes.
Maybe Muslim women liked the hijab but it seems that the running shoe is a fashion faux pas for them.