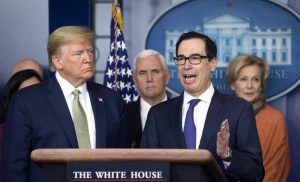 by Daveda Gruber:
Lawmakers on Capitol Hill are already considering another stimulus package for the COVID-19 outbreak.
The largest piece of legislation in U.S. history for $2.2 trillion was passed last week. That legislation Which is set in place to provide economic relief has $350 billion in funding for small businesses.
Businesses with fewer than 500 employees are eligible for up to $10 million in loans. The loans can be used for payroll,  insurance premiums, mortgages, rent or utilities.
On Monday Treasury Secretary Steven Mnuchin said he would be willing to ask Congress for more money to help during the coronavirus outbreak.
Congressional Republicans and Democrats had indicated that there could be a fourth coronavirus response bill.
Mnuchin told Fox Business, "This is a very popular program with Republicans and Democrats, and the president likes it a lot. If we run out of money, and this is a huge success, we will absolutely go back to Congress and ask for more money."
Senate Minority Leader Chuck Schumer, D-N.Y., told The Hill, "I think the odds are we'll need more legislation. First, we don't know the extent of the crisis in terms of the magnitude, so that could rise. But there are going to be problems that we don't realize now that we're going to have to grapple with. So I think the odds are high there will be a COVID-4."
House Speaker Nancy Pelosi, D-Calif., told CNN that Democrats "had bigger direct payments in our bill, and we think we'll get more direct payments in another bill."
Pelosi added that she planned to push for pension protections which did not make it into phase three of the stimulus package. Last week Pelosi said that pension protections were supported by President Trump, but that Senate Majority Leader Mitch McConnell, R-Ky., said he would save it for another piece of legislation.
In a fourth stimulus package, Democrats are allegedly seeking additional funding for the Supplemental Nutrition Assistance Program (SNAP), which is also known as food stamps. Also being reported, is including emissions restrictions on airlines. That inclusion was blocked last week.
House Minority Leader Kevin McCarthy, R-Calif., has stressed that phase three of coronavirus legislation that was approved last week, was critical, but he wasn't certain that another bill would be necessary.
McCartthy was on Fox News and said, "I'm not sure we need a fourth package. And before we go to start drafting a fourth package, I'd like these three packages just put out…to take care and get this economy moving."
Last week New York Govenor Andrew Cuomo said, "The congressional action in my opinion simply failed to address the governmental need. I'm disappointed, I said I was disappointed. I find it irresponsible, I find it reckless."
He also said that the money New York does receive from the stimulus package was "earmarked only for COVID virus expenses, which means it does absolutely nothing for us in terms of lost revenue."
The 880-page coronavirus stimulus package helps many people but the amount of money that have nothing to do with the COVID-19 outbreak is very high.
Here is a list of the money and where it goes: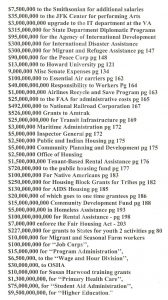 The entire bill can be seen here:
https://www.scribd.com/document/453273118/Cares-Act-Final-Text
If there is more money given in a fourth bill, more pork will be added. We are in big debt now. I agree that the third bill was needed but there's also a lot of pork in it. To get money from Democratic lawmakers is tricky. They always want something that has nothing to do with the issues at hand.