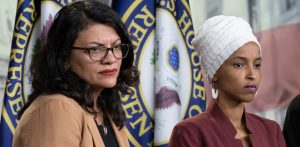 by Daveda Gruber:
On Saturday is was reported that House Democrats may use retaliatory moves on two diplomats over the decision to block Representatives Ilhan Omar D-MN., and Rashida Tlaib D-MI from traveling to Israel.
About twelve Senior Democratic Congress members have been reported to have been considering taking action against Israel's ambassador to Washington, Ron Dermer, and David Friedman, the U.S. ambassador to Israel.
Allegedly, Democrats are considering a vote on legislative action against Dermer and opening an inspector general investigation into Friedman.
Back in the West Bank, Tlaib's 90-year-old grandmother, Muftia Tlaib, used harsh words to send President Trump for his comments about the banned trip.
The elder Tlaib said, "Trump tells me I should be happy Rashida is not coming. May God ruin him."
Here's where I go off script for a moment. The Tlaib family is Muslim. The word used was most likely Allah and not God.
Omar and Tlaib are both Muslim. The two are also outspoken critics of Israel. They both support boycotts of the country.
In their plan to visit Jerusalem and the West Bank, Omar and Tlaib were going on a tour organized by a Palestinian organization aimed at highlighting the plight of the Palestinians.
The Israeli government blocked the planned trip but later said it would accept a humanitarian request from Tlaib to visit her Palestinian grandmother.
Tlaib's reaction was that she would not travel to the West Bank to visit family. This was after getting permission hours  before from Israel's interior minister.
President Trump had tweeted this:
Israel was very respectful & nice to Rep. Rashida Tlaib, allowing her permission to visit her "grandmother." As soon as she was granted permission, she grandstanded & loudly proclaimed she would not visit Israel. Could this possibly have been a setup? Israel acted appropriately!

— Donald J. Trump (@realDonaldTrump) August 16, 2019
Rep. Tlaib wrote a letter to Israeli officials desperately wanting to visit her grandmother. Permission was quickly granted, whereupon Tlaib obnoxiously turned the approval down, a complete setup. The only real winner here is Tlaib's grandmother. She doesn't have to see her now!

— Donald J. Trump (@realDonaldTrump) August 16, 2019
Did Omar and Tlaib have good intentions for this trip? Only if you can decipher that it was going to be good for Palestinians because they were going to show the two freshman Congresswomen what they wanted the women to see.
After all, Omar and Tlaib's tentative itinerary was titled "US Congressional Delegation to Palestine." It never mentioned Israel.