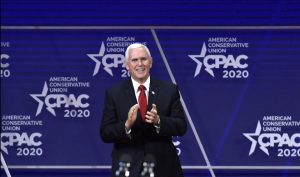 by Daveda Gruber:
On Thursday Vice President Mike Pence assured the nation that the federal government is prepared for any potential health crisis while speaking at the Conservative Political Action Conference (CPAC) outside Washington.
CPAC is an annual political conference attended by conservative activists and elected officials from across the United States. CPAC is hosted by the American Conservative Union (ACU).
President Trump has put Pence at the helm of the team to lead the U.S. response to the coronavirus outbreak.
Pence said, "We're ready. We're ready for anything," which was what Trump had said yesterday.
Pence called for political unity when he said, "We're all in this together. This is not the time for partisanship. The American people expect us to work together."
Pence added went on to say, "I promise you this administration will work with leaders in both parties, on the state and local level. This president will always put the health and safety of America first."
Here is a video of Pence speaking at CPAC:
Still, it remains doubtful that the top Democrats are likely to fight alongside Republicans.
On Monday, Speaker of the House Nancy Pelosi, D-Calif., said that Trump's proposed $2.5 billion request to undertake the outbreak was "long overdue and completely inadequate to the scale of this emergency."
On Wednesday Trump did not hold back words as he called Pelosi "incompetent" and accused her of using the virus for political means.
Trump said, "She's trying to create a panic and there is no reason to panic, All they are trying to is get a political advantage, but this shouldn't be a political thing."
The virus has killed at least 2,800 people worldwide and infected around 82,000 mainly in China. The virus is difficult to detect as it resembles a common cold or flu. The coronavirus does affect the chest and lungs.
U.S. authorities recently confirmed the first American coronavirus case that had no link to international travel in California but it happened in an area near Travis Air Force Base, which was used to transport an American back to the U.S. with the virus, which is near Solano County, where the case was detected.
Dr. Sonia Angell, Director of the California Department of Public Health and State Public Health Officer said in a statement, "We have been anticipating the potential for such a case in the U.S., and given our close familial, social and business relationships with China, it is not unexpected that the first case in the U.S. would be in California."
Testing is happening in other areas of the country where coronavirus is suspected.
Democrats would love to find something new to blame Trump for but no one seems to be buying the garbage that they spew. Trump was not the cause for the virus nor did he not react in the proper manner. Trust me, Trump's got this under control.