by Daveda Gruber:
During the presidential transition period a list of names of top Obama administration officials allegedly requested to "unmask" the identity of General Michael Flynn.
Declassification of the list of the notorious development was made by Acting Director of National Intelligence Richard Grenell.
The list was then sent to Attorney General Bill Barr and GOP Senators Chuck Grassley, R-IA., and Ron Johnson, R-WI., who then made the documents public.
The list is long and includes former Vice President Joe Biden.
Biden isn't the only interesting name on the list. In fact there are quite a few. Here are a couple:
Former FBI Director James Comey
Former CIA Director John Brennan
Former Director of National Intelligence James Clapper
Former President Barrack Obama's chief of staff Denis McDonough
The entire list can be seen here: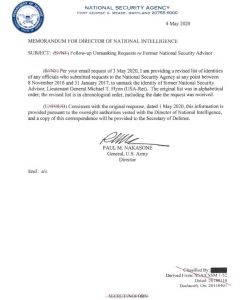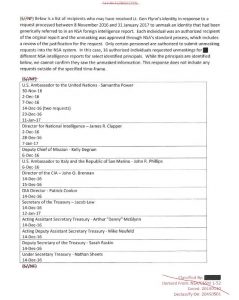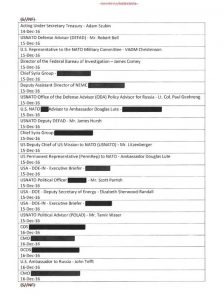 The declassified list shows officials who may have received Lt. General Flynn's identity in response to a request processed between  November 8, 2016 and January 31, 2017 to unmask any identity that had been generically referred to in an NSA foreign intelligence report.
The document said, "Each individual was an authorized recipient of the original report and the unmasking was approved through NSA's standard process, which includes a review of the justification for the request. Only certain personnel are authorized to submit unmasking requests into the NSA system. In this case, 16 authorized individuals requested unmasking for [REDACTED] different NSA intelligence reports for select identified principals."
The document also said, "While the principals are identified below, we cannot confirm they saw the unmasked information. This response does not include any requests outside of the specified time-frame."
Grenell wrote to GOP senators and included the list. He wrote, "I declassified the enclosed document, which I am providing to you for your situational awareness."
The decision had already been made by Grenell to declassify information that he had uncovered about the Obama administration officials who were involved in the "unmasking" of former national security adviser Flynn.
Not only do Trump supporters, myself included, feel that Flynn was dishonestly targeted and that the Obama administration had top level officials involved to bring Flynn down because of his loyalty to President Trump and to the United States.
I would assume that Biden was unaware of what was actually uncovered when he told ABC News' "Good Morning America" that he knew "nothing about those moves to investigate Michael Flynn."
Biden called the topic a "diversion" from the coronavirus pandemic.
Biden had a little more information and made his statement clearer by saying, "I thought you asked me whether or not I had anything to do with him being prosecuted. I'm sorry. … I was aware that there was . . . that they asked for an investigation, but that's all I know about it, and I don't think anything else."
He doesn't think there was anything else? Actually, I believe has a thinking problem and that fact is coming closer and closer into light.
If the investigation goes into place as I feel it will, Biden may have to testify to Congress.
Will he claim forgetfulness?
Get your popcorn ready. This show is about to get rather interesting.